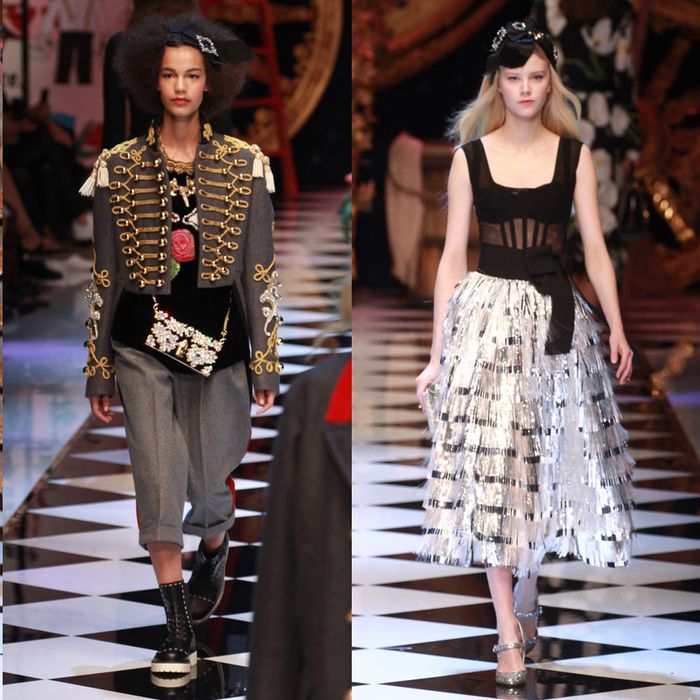 Dolce and Gabbana
Photo: Antonio de Moraes Barros Filho/W
It was clear Dolce & Gabbana's runway today in Milan would go for a full embrace of fairy-tale romance from the moment you opened the invite, which played "A Dream Is A Wish Your Heart Makes" from Disney's 1950 animated film Cinderella. The show was overflowing with Disney-princess-inspired details like a giant pumpkin at the entrance and a mirror for selfies declaring "Who is the most beautiful? YOU!" Music from Cinderella played before and after the show (though Sia's "Unstoppable" soundtracked the actual show), and the set was loaded with nods to Disney's fairy tales, like Aladdin's carpet, Cinderella's bed, giant clocks, and glittering fruits.
There were plenty of princess-ready gowns, like a mesmerizing mirrored dress paired with Cinderella-esque glass slippers.
There was also a veritable garden of big florals, whether printed on a dress or made into long coats.
No fairy tale would be complete without a Prince Charming, represented in menswear details like military jackets and suits.
Whimsical, princess-fantasy-inspired appliqués were apparent on many of the outfits, like a dress covered in mouse tailors. Cats were also present in many of the looks.
Happily ever after is a phalanx of models marching down the runway, all wearing nearly identical sequined dresses in silver and a range of pinks.