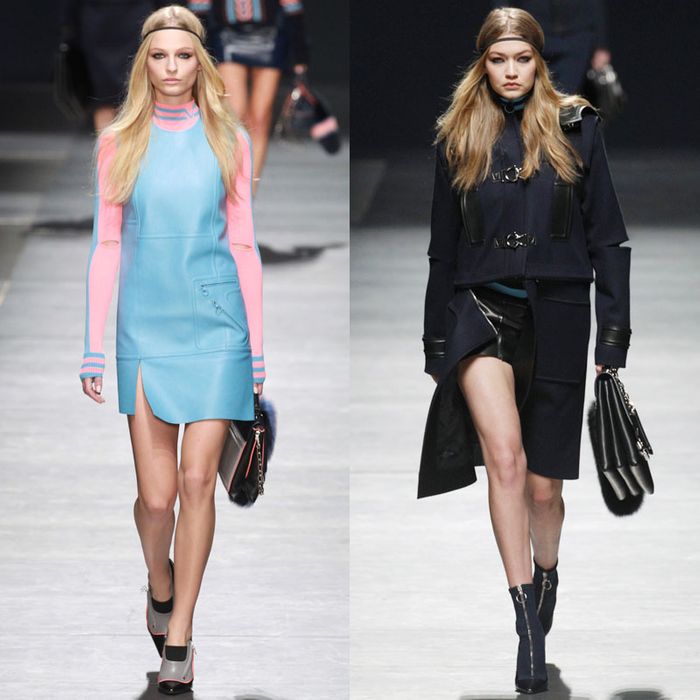 Versace's show today was a truly large-scale affair. Held in Milan's giant sporting stadium, the show featured arena-style seating, arranged in a pattern of concentric circles — call it the city's answer to New York's Yeezy show. The setup meant that, in democratic fashion, everyone had a front-row seat, though it did make for a mile-long runway.
Gigi Hadid opened in a strong military overcoat (she also closed the show). The casting seemed to be split between Instagirls like Hadid, Kendall Jenner, and Karlie Kloss, and old-school favorites like Mariacarla Boscono and Jamie Bochert. It seems like there's little to no rancor between the two factions, as delegates from both sides made friends backstage.
As the invite hinted, the show was ice-inspired, and Donatella Versace favored a color palette of arctic pinks and blues, most notably on a baby-pink slip dress with a sequin detail and an ombré mink in muted snow-cone shades of pink, white, and blue. It was enough to make a dedicated neutrals-wearer reconsider pastels.
In addition to the already-cresting silhouette of flared, cropped pants with boots, the designer showed stirrup pants worn with heels, which helped the look feel less '90s redux.
Some of the accessories came with fuzzy, pastel add-ons that made even a structured handbag feel cuddly.
There was a mild scandal when Gigi Hadid's right nipple popped out of her dress, but she handled it like a pro.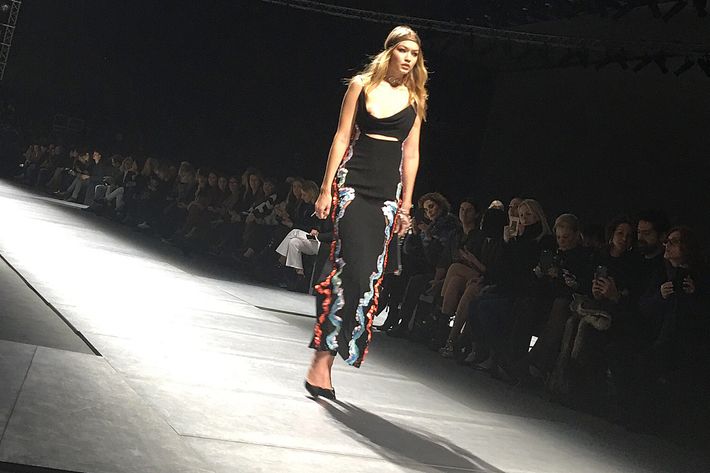 The models wore simple headbands across their foreheads, for a smartened-up take on the Coachella look. Backstage, makeup artist Pat McGrath dabbed concealer on models' lips for the perfect nude shade.