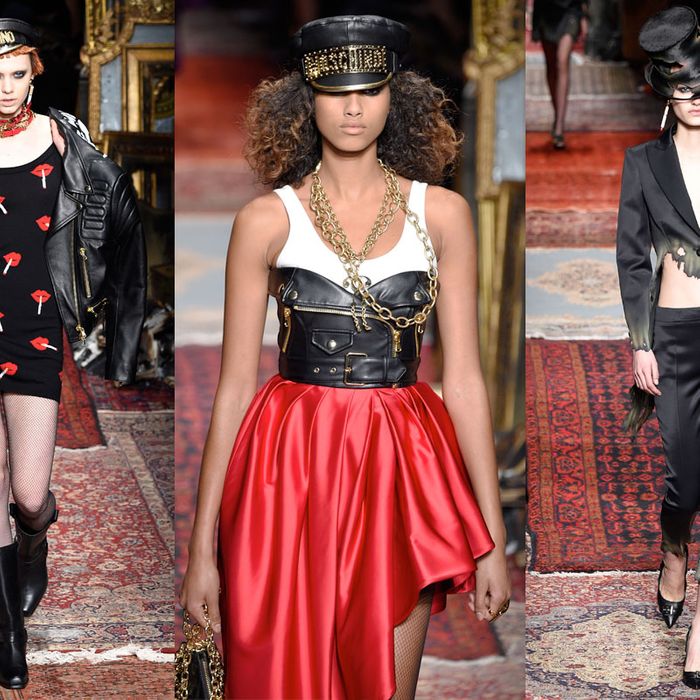 "What are you rebelling against?" "What have you got?"
Photo: Getty Images
Moschino's Jeremy Scott can certainly commit to a theme, and he tackled this season's springboard — cigarette packaging — wholeheartedly, with sweatshirts bearing the logo "Fashion Kills," and matchstick prints on skirts, sure to launch a thousand flame emoji from his fans. And of course, there was the requisite iPhone case, in the shape of a cigarette pack. It's not the only time Scott has explored vices: Think of his previous nods to fast food and cheap beer.
The set resembled Antiques Roadshow, with fallen chandeliers and old furniture lining the runway, and even a falling-apart piano — how very Phantom of the Opera! Antique carpets lined the runway, and those in the front row sat in vintage chairs rather than on the usual prosaic benches.
As if Scott didn't drive the theme home enough, there were also earrings shaped like cigarettes.
Tough biker chicks in quilted caps and chunky chain-embellished boots walked out to — naturally — an AC/DC soundtrack. (Just in case you didn't get the "rebel" message, some of them said WARRIOR on them.)
There was a parade of gowns that looked like they had been singed through and had smoke coming out of them. The always-emotive Anna Cleveland did a particularly dramatic runway walk-though, fanning the smoke from her dress.
And in the show's most Instagrammable moment, this giant chandelier dress had iPhone flashes a-popping.