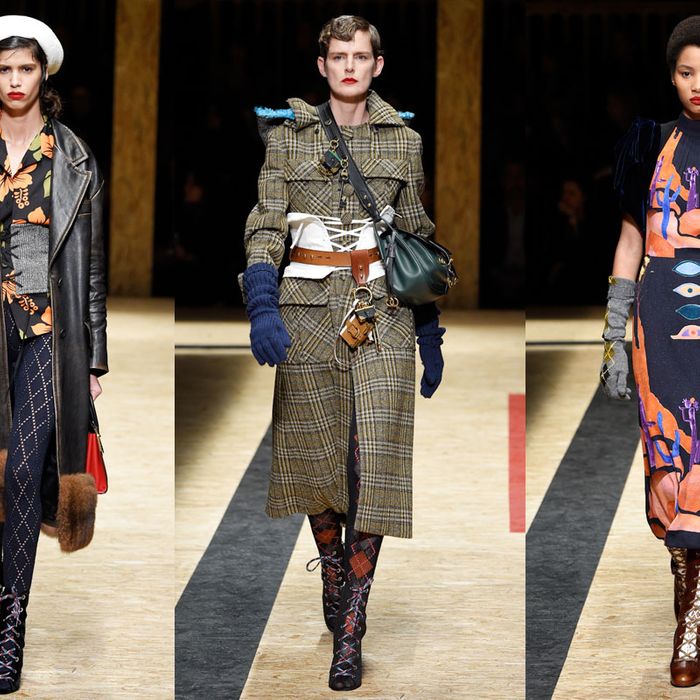 Hello, sailors.
Photo: Getty Images
The Prada show today featured a soundtrack made up mostly of female artists: It opened with PJ Harvey's jagged voice singing "To Bring You My Love," which segued into Marilyn Monroe's "I'm Through With Love" and Edith Piaf's "Hymne à l'Amour" — a triad of very different takes on love. (Also on the playlist: Nico's "Nibelungen," former Prada face Karen Elson's "Stolen Roses," and a track from up-and-coming band Heimat.)
As always, Prada took sometimes-dorky signifiers — this time, Hawaiian shirts and argyle socks — and turned them into something cool, pairing the socks with shiny peep-toe heels or lace-up wedges or transforming them into gloves. As for the sailor hats that were carried over from her last men's collection, chalk those up to the biannual Miuccia moment of eccentricity.
The brand shunned an elaborate set in favor of a plywood structure.
Major key alert: Huge, old-fashioned keys were strung along necklaces and belts.
Why don't you make like Miuccia and string your mini bag around your neck? It's convenient and perfect for your next bodega run.
We saw some O.G. model action in the form of Stella Tennant taking to the runway. Campaign face Lineisy Montero also made an appearance.
The beauty look was simple, with models sporting red lips courtesy of makeup artist Pat McGrath and mussed half-up half-down hair — the handiwork of hairstylist Guido Palau and a look that, based on backstage images, contained a lot of clips.
There has been a kind of desert/Western inspiration that has been bubbling up in several collections this season. Here, it came in the form of trippy cactus prints (alluded to in the preview video series that preceded the collection, titled "Premonition" — you can watch one of the shorts below) and oversize metallic rosettes. The designer's take on dark denim and utility silhouettes extended the Americana theme.
Finally, the house isn't going full-on see-now, buy-now à la Burberry, but it is making a nod toward the concept. Two new bag styles — the Pionnière and the Cahier — will be available for purchase immediately after the last model strutted off the catwalk.