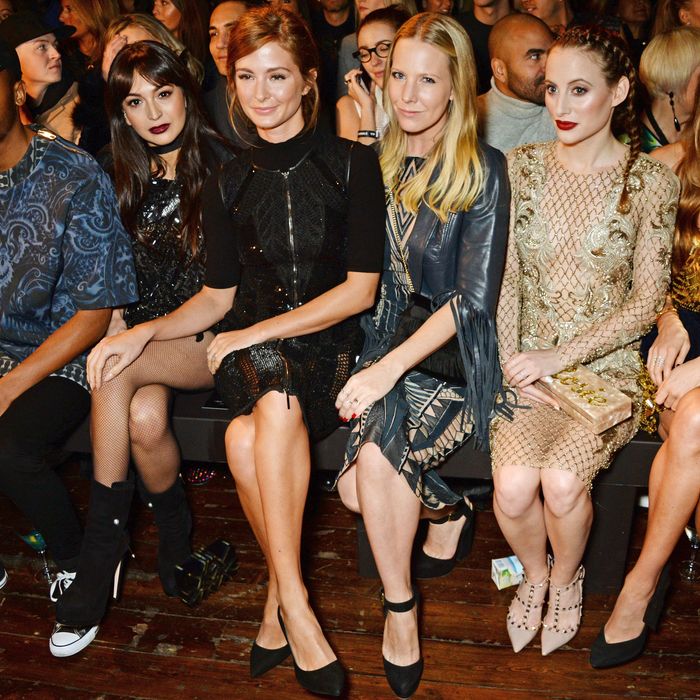 Photo: David M. Benett/Getty Images
"Frowing," as the English call sitting in the front row, is practically a national pastime at London Fashion Week. The celebrity section is always stuffed with people who remind you that our two countries are separated by more than just a common language. Maybe you've seen them adorning The Daily Mail's celebrity sidebar, and accidentally clicked on a story about one of them STEPPING OUT with a NEW MAN!!, but otherwise they're pretty much a mystery to us colonists. Here, a naturalist's guide to some of the confoundingly similar faces you'll see lining the frow.
Laura Whitmore
Genus: Irish TV presenter, host of I'm a Celebrity … Get Me Out of Here! NOW!, a person described as "leggy" by The Daily Mail, a person who has allegedly "caught the eye of Leonardo DiCaprio" (again per the Mail), who reportedly "held her face in his hand" at a BAFTAs after-party.
Habitat: Felder Felder, Hill and Friends, Holly Fulton.
Plumage: Chokers, long sleeveless vests, leather miniskirts, a smart cape.
Behaviors: Categorically denying that Leonardo DiCaprio ever held her face in his hand at a BAFTAs after-party.
Pandora Sykes
Genus: Fashion features editor at The Sunday Times Style.
Habitat: Shrimps, Hill and Friends, Topshop Unique.
Plumage: Personalized leather jacket painted with her name.
Behaviors: Laughing in the face of seasonal dressing. Ha!
Alice Naylor-Leyland
Genus: Per her website, "Founder of MrsAlice.com & Wife & Mama to her Blue- Eyed Billy." She contributes to Harper's Bazaar UK and Hello!, and designed a collection of flats for French Sole.
Habitat: Emilia Wickstead, Temperley, Peter Pilotto, Roksanda Topshop Unique, Julien Macdonald, Charlotte Olympia — the woman goes to more shows than most fashion editors.
Plumage: Schoolgirl-style jumpers, long lace gowns.
Behaviors: "Flitting between London and Yorkshire."
Millie Mackintosh
Genus: Toffee heiress, former star of the "structured-reality" series Made in Chelsea, designer of a signature fashion line, Made by Millie.
Habitat: Julien Macdonald, Charlotte Simone.
Plumage: A pretty much see-through dress that The Daily Mail cast as an attempt to "Single White Female" fellow Made in Chelsea cast member Rosie Fortescue, who wore an equally see-through but totally different-looking dress.
Behaviors: Ending an "explosive" (The Mirror) two-year union with rapper Professor Green that began when he saw her on the cover of FHM and contacted her.
India Rose James
Genus: Pornography heiress, art impresario, technical owner of Soho House. (Direct quote, to the Evening Standard: "Do I own Soho House? I guess I do. That's quite fun, isn't it?")
Habitat: Ashish, Fyodor Golan, Eudon Choi, Sibling, Julien Macdonald, PPQ, Charlotte Simone.
Plumage: Black leather jackets, white shirts, the occasional touch of fun fur.
Behaviors: She actually seems stunningly normal for someone with that bio.
Vogue Williams
Genus: Irish TV personality.
Habitat: Paul Costelloe, Vin & Omi.
Plumage: A vaguely Jetsons-y pink frock.
Behaviors: Divorcing a member of boy band Westlife, flaunting her toned legs.

Lucy Mecklenburgh
Genus: The still point of the turning love triangle on "structured reality" show The Only Way Is Essex.
Habitat: Aspinal of London.
Plumage: A T-shirt that reads LUXE.
Behaviors: Displaying a flat stomach, exchanging numbers with former Made in Chelsea star Hugo Taylor in what seems like an attempt to create the great British "structured reality" power couple of our time.
Danielle Lloyd
Genus: Glamour model who was denuded of Miss Great Britain title when found to have posed for Playboy.
Habitat: Vin & Omi.
Plumage: Black dress with attached necklace.
Behaviors: Sporting matching bomber jackets with her other half. Ah, young love!
Donna Air
Genus: Paramour to everyone's favorite marshmallow magnate/brother of Kate, James Middleton, though the Mail claims they're on a "relationship sabbatical." Also a TV presenter and former girl-group member.
Habitat: Burberry, RewardStyle party.
Plumage: Classic trenches and whimsical floral frocks.
Behaviors: Advocating for organic milk, injecting a touch of elegance to store openings.
Nicola Roberts
Genus: Formerly of girl group Girls Aloud. 
Habitat: Zandra Rhodes, Markus Lupfer, House of Holland.
Plumage: Corduroy (see below).
Behaviors: Looking effortlessly stylish in corduroy, pretending to be a mermaid in Barbados.