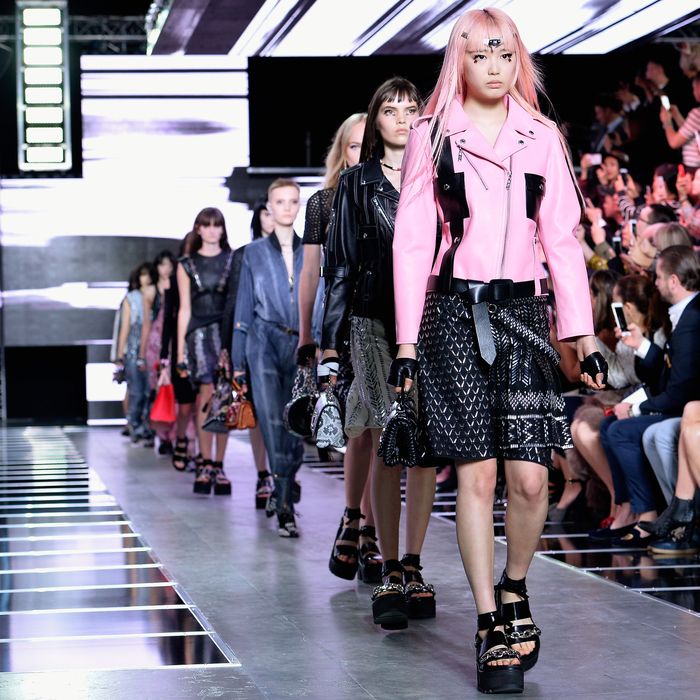 The scene at Louis Vuitton's last PFW show.
Photo: Pascal Le Segretain/Getty Images
Burberry may have just shown its first buy-now-wear-now collection at Fashion Week to much fanfare, but it doesn't sound like its neighbors across the pond are going to follow suit. The succinctly titled Fédération Française de la Couture du Prêt-à-Porter des Couturiers et des Créateurs de Mode has a position on the new seasonless trend, and that is a unilateral "Nah." After assembling a fact-finding mission similar to the one the CFDA is conducting now, its board cast a unanimous vote not to adopt the consumer-facing approach at Paris Fashion Week. That means that Dior and Chanel will be among the houses continuing to show in the traditional fashion.
"Paris is undisputedly the fashion capital of creation," the organization's president, Ralph Toledano, told WWD. "As far as we are concerned, the present system is still valid." Among the concerns he cited were that designers would tire of their own collections by the time runway shows came around, and a fear that embargoed imagery from the early editor/buyer previews required by the schedule would leak. "Instead of us controlling our image, our image would be in the hands of pirates," he told the paper.
Toledano isn't the only big figure in French fashion to reject buy-now-wear-now. Last week, François-Henri Pinault, the head of Kering, also came out against the concept, at least when it comes to luxury brands. "The notion of 'see-now, wear-now, or sell-now,' for example, is a negation of dreaming, of desire," he told the Business of Fashion. So much for your plans to buy Chanel straight off the runway.