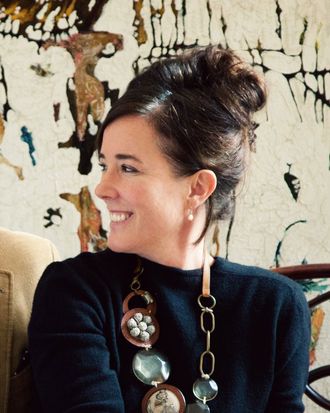 That's Ms. Valentine to you.
Photo: Jamie Beck
"Defrosting" is the way Kate Valentine describes her absence from fashion. (Yes, Valentine: "I am the designer formerly known as Kate Spade. I am Kate Valentine," she tells me, clarifying the much-heralded name change she recently made.) She points at her husband, who's sitting across from her at a long table in their Bryant Park studio. "Andy [Spade, her husband] had no interest in defrosting," she says. "He went right into [branding studio] Partners & Spade and [sleepwear brand] Sleepy Jones. I was loving my class-mom duties."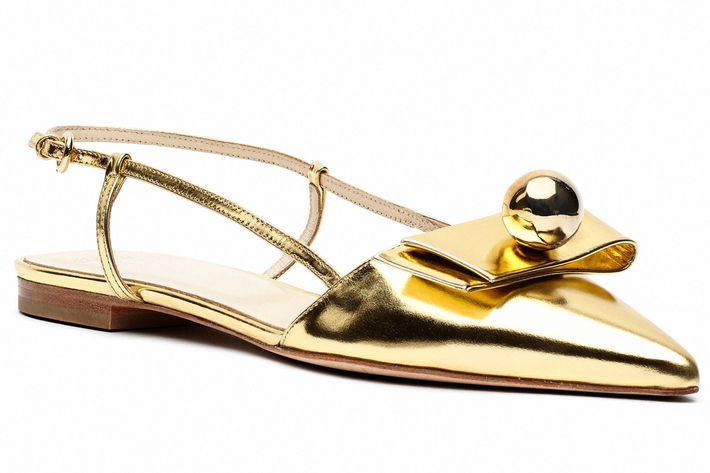 The headquarters for the duo's new vision is their airy, art-filled two-story studio, which the couple has set up to look like a home, complete with painted window boxes and a living-room set. Perching there with them and their business partners Elyce Arons and Paola Venturi, it's easy to believe that you're being invited into their home. "People think that we live here," says Valentine, miming the gestures of a dutiful hostess. "I just came out of bed — Oh, come on in, you want to come for coffee? I'll be with you in two seconds. Let me get changed. Make yourself at home."
It's a throwback to the early days of Kate Spade, when Valentine ran the business out of her apartment on Warren Street. "I was so conservative in terms of business that Andy said, 'We have to get an office space,'" she remembers. "And I was like, 'I don't want to get a lease — what if it doesn't work? And he said, 'It's working. I think we can swing for a little space.'"
How has the accessories business changed since the days when she elevated a simple cloth bag to one of the most desirable items on the market? "I don't see a whole lot of difference," Valentine says. "There are a lot more accessory brands out there. Or even designers who at the time were focusing on accessories who are now really paying attention to their accessories collections more than they were."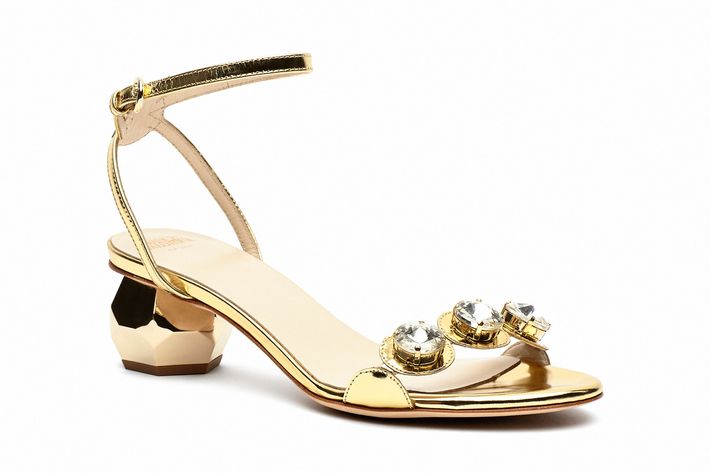 The debut lineup includes more sophisticated pieces, like a bootie with a Buckyballs-inspired heel. The prices, too, are elevated: That boot will set you back $755. "Over the eight years [Kate's]  taste has evolved and she's grown up and I do think that our customer is growing up, too," says Spade. "Growing with us" is how Valentine prefers to put it.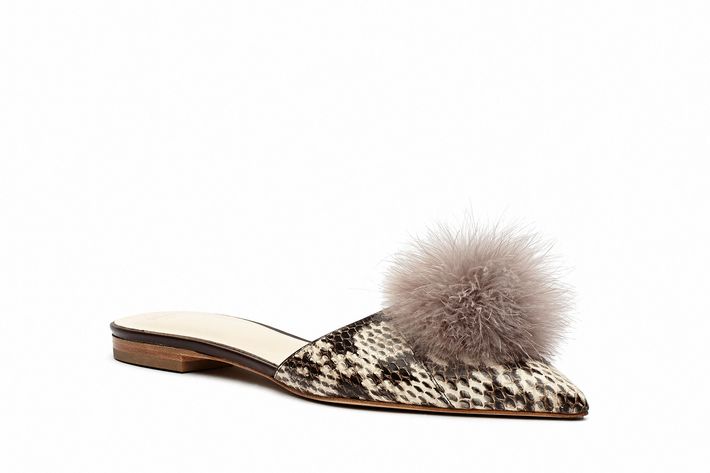 Still, she's structuring things differently this time around: In keeping with the ongoing trend of see-now, buy-now, the collections will be shown close to the time of availability. And she doesn't plan on doing shows or presentations, but rather showing behind-the-scenes glimpses of the collection in various forms — what Valentine calls "a presentation narrative of sorts." Adds Spade, "When we started Kate Spade we had to do retail to tell our story," Spade says. "But [now] we can tell our story online."
For now, they're doing it without investors, and seem to be excited by the freedom that offers. As for whether customers will recognize the designer's stamp on a new moniker and new collection, Spade says he's not worried: "We want it to stand on its own. No one knew who Kate Spade was in the beginning. It's a wait-and-see."