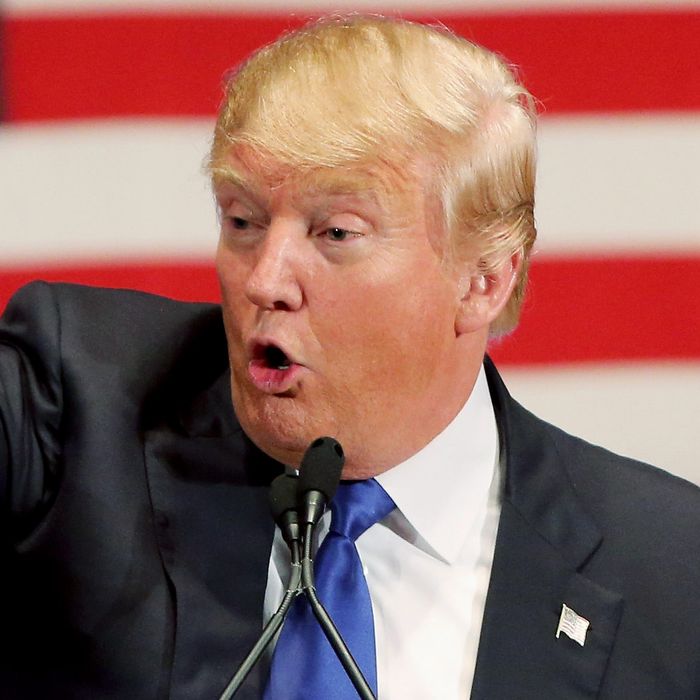 Whattaguy.
Photo: Christopher Furlong/Getty Images
If the presidential election were decided merely on who could sling the most hate-filled invective, Donald Trump would win in a landslide. Luckily that's not the case (yet), but Trump has still ridden his presidential campaign like a nonstop train to Assholeville. And while deciding whom to insult is the only area in which he does not discriminate, he appears to save his most derogatory language for the female journalists who cover him.
Via the Washington Post, here are just some of the insults Trump has flung at female reporters:
The list of female journalists and commentators who've been verbally roughed up by Trump include Associated Press reporter Jill Colvin ("one of the truly bad reporters"); New York Times reporters Amy Chozick and Maggie Haberman ("third-rate reporters"); CNN pundits S.E. Cupp and Ana Navarro ("two of the dumbest people in politics"); Huffington Post founder Arianna Huffington ("liberal clown"); Forbes writer Clare O'Connor ("dummy"); MSNBC reporter Kasie Hunt ("poor and purposely inaccurate reporting"); CNN host Alisyn Camerota ("disaster"); Washington Post blogger Jennifer Rubin ("one of the dumber bloggers"); NPR's Cokie Roberts ("kooky"); NBC News reporter Katy Tur ("Dishonest!"); and CNN reporter Sara Murray ("absolutely terrible").
And then there's Megyn Kelly.
Trump for president of Insult Givers; literally anybody else for president of the United States.