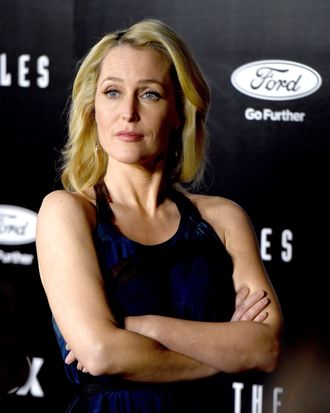 Gillian Anderson.
Photo: Kevin Winter/Getty Images
There's no way to win if you're an actress, particularly if you're over the age of 25, and The X-Files star Gillian Anderson is keenly aware of it. When she's not being offered half her co-star's salary, she's getting scrutiny for looking too good for her age. Esteemed media outlet the Daily Mail convened a panel of experts to analyze a photo of Anderson and speculate on what plastic surgery she might have elected to have to keep looking, as the headline puts it, "ageless."
Anderson responded to the article on Twitter with surprising good humor, calling it "sad" and posting a recent photo of herself tagged "aging without shame." Isn't being a woman grand?