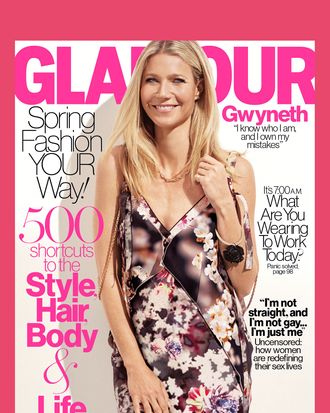 Gwyneth Paltrow.
Photo: Steven Pan/Glamour
Listen, Gwyneth Paltrow knows what you think of Goop. She knows that you make fun of the lifestyle she has so carefully and lovingly curated. She knows that you mock the whole "water has feelings" thing. And that you have some sort of problem with how much "things cost"; she hears you. Okay?  You think her stuff is too expensive and it's all ridiculous and elitist. She gets it. Loud and Clear.
But all you naysayers are totally wrong, she says, and frankly, ill-informed.
"Sometimes I'll get annoyed if someone's like, 'Goop is so expensive,'" she told Glamour magazine. "I'm like, 'Have you looked at the website? Have you seen the range of price points?' Cause we sell things that are $8. I'm like, 'If you want to f–k with me, bring your A-game. At least have all your information.'"
I wouldn't want anyone to try to mess with the bull and not be prepared for horns, so to speak. Here's the necessary information, should you want to f–k with Goop: The following products are $8-ish and under (not including tax or shipping).
Suvana Paw Paw & Honey Lip Balm, $4
Phytocare Pure Papaya Ointment With Calendula, $8.95