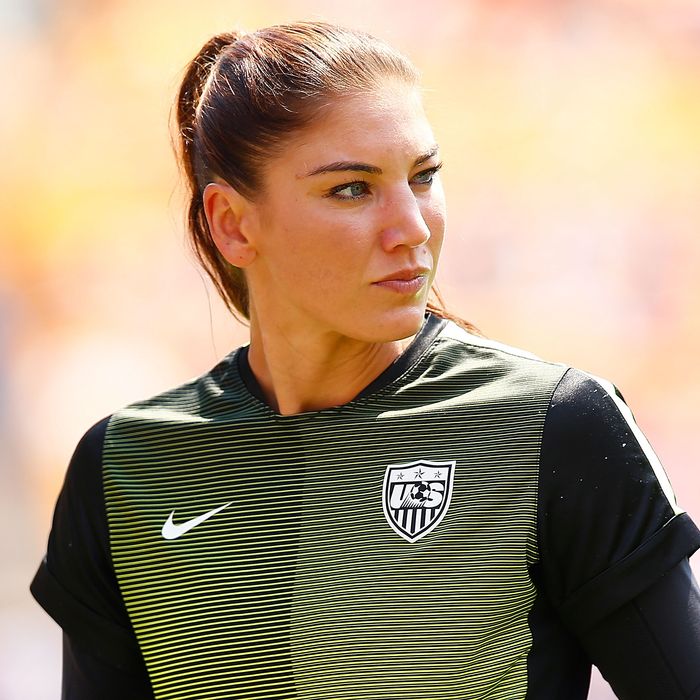 U.S. Women's National Team goalie Hope Solo.
Photo: Jared Wickerham/Getty Images
In case you haven't been paying attention: Ground zero for the Zika virus outbreak is in Brazil, the country that will host the 2016 Olympic Games in August. Zika typically only causes mild symptoms in adults (and only one in five of those infected show symptoms at all!), but it's been associated with a devastating birth defect when pregnant women contract the virus — though doctors are still investigating the link. And now, Zika-Olympics mania has officially begun, with reporters asking athletes whether they still plan to participate.
When a Sports Illustrated writer asked U.S. Women's National Team goalkeeper Hope Solo if she would go to the Games, she replied, "If I had to make the choice today, I wouldn't go." ("Today" was two days before the team's first game of the Olympic-qualifying tournament — they're not even officially in yet.)
Solo told SI that she knows Zika doesn't affect future pregnancies and that she and husband Jerramy Stevens aren't planning to get pregnant in the near future, but she's still uncomfortable with the idea of traveling to Rio. She said:
"I would never take the risk of having an unhealthy child. I don't know when that day will come for Jerramy and me, but I personally reserve my right to have a healthy baby. No athlete competing in Rio should be faced with this dilemma. Female professional athletes already face many different considerations and have to make choices that male professional athletes don't.

"We accept these particular choices as part of being a woman, but I do not accept being forced into making the decision between competing for my country and sacrificing the potential health of a child, or staying home and giving up my dreams and goals as an athlete. Competing in the Olympics should be a safe environment for every athlete, male and female alike. Female athletes should not be forced to make a decision that could sacrifice the health of a child."
This is flat-out wrong in several ways. First, there is no evidence that the Zika-linked birth defect poses a threat to future children of female athletes unless they are pregnant during the Games or are trying to get pregnant then or immediately after.
And men aren't exempt from Zika fears when it comes to conceiving. The virus can remain in semen after infection, so the CDC recently advised that men who travel to the region use condoms with pregnant partners until the baby is born — or if their partner isn't pregnant, to use condoms for an unspecified amount of time. (FWIW, British health officials say six months for men who showed Zika symptoms or tested positive and 28 days for men who did not.) This can put a wrench in couples' plans to conceive, too.
Solo's comments coincide with reports that the U.S. Olympic Committee told national sports federations that athletes and staff concerned about Zika should consider skipping the Games. As a USOC spokesperson told Time: "We're taking steps to ensure that our delegation and those affiliated with Team USA are aware of the CDC's recommendations regarding travel to Brazil."
But "don't go if you're worried" isn't what the CDC recommendations actually say. Even the notoriously overzealous agency has only advised that women who are pregnant or trying to get pregnant avoid travel to countries with Zika outbreaks. All other travelers have been instructed to take steps to avoid mosquito bites, like using repellent and covering up.
Of course, the USOC doesn't want to force anyone to participate in the Olympics if they're concerned, and perhaps this was the group's way of telling pregnant athletes that they'd support a decision not to attend. But now athletes all over the world are getting this question, and providing responses of varying accuracy. One British rower told Reuters that he and his wife decided she would stay home while he competes because, he said incorrectly, research suggests women who get Zika should wait two years to conceive.
We have a full six months to go before the start of the Games, and athletes aren't infectious-disease specialists. May we suggest a moratorium on reporters asking Olympians about their Zika-related plans?