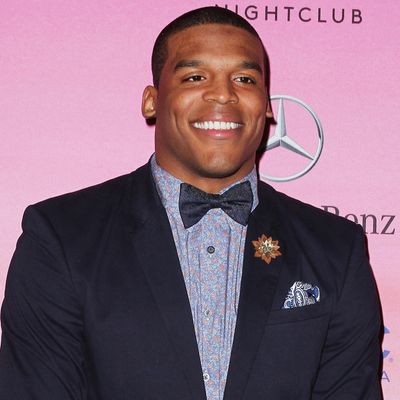 Cam Newton, No. 1 Super Bowl hot guy.
Photo: John Parra/Getty Images
If you are excited for the Super Bowl because you like football, well how nice for you. If you are excited for the Super Bowl because hot dudes are gonna lie down on top of each other and then at some point Beyoncé will appear, girl, I feel that. Here, for your viewing pleasure, is a ranking of the top-ten hottest dudes on the starting teams of the Denver Broncos and the Carolina Panthers.
10. Owen Daniels, Denver Broncos

9. Greg Olsen, Carolina Panthers
8. Roman Harper, Carolina Panthers
7. Von Miller, Denver Broncos
6. Jonathan Stewart, Carolina Panthers
5. Ronnie Hillman, Denver Broncos
4. Demaryius Thomas, Denver Broncos
3. Luke Kuechly, Carolina Panthers
2. Emmanuel Sanders, Denver Broncos
1. Cam Newton, Carolina Panthers

As you can see, it's an even hotness spread across both teams: five hot guys from the Panthers, five hot guys from the Broncos. But, as an official referee for the NFL (National Fuckboy League), I have to declare the Panthers the winners. I mean, have you seen Cam Newton shirtless??? Go team.