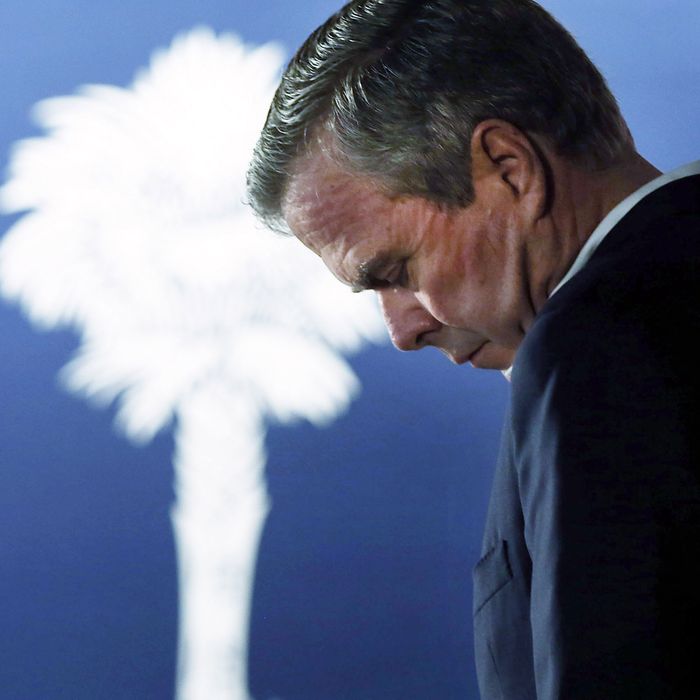 The face of a boy sitting on $24.4 Million
Photo: Spencer Platt/Getty Images
Tragedy struck this weekend when Jeb! Bush announced the unthinkable: He's "suspending" his presidential campaign. While this may be good for whatever's left of Bush's dignity — the Washington Post estimates he spent about $5,000 per vote — it's bad for anybody with a budding political meme-making career.
With his attempts at stylishness, apologizing to his mom for smoking weed mid-debate, and his crowning achievement, the Please Clap, he was the primary's most enjoyably mockable candidate. Luckily there's still one remnant of his campaign that's alive and well: his super-pac money. Here are a couple of things Jeb! could blow that remaining $24.4 million on.
• Lady Gaga Applause Remixes 12-inch vinyl. eBay, $59.99 + $4 shipping
• New erasers and markers. Amazon, $6.99
• Custom tapestry that reads, "Sorry dad I did my best." DENY Designs, $69.99
• An incinerator to burn the tiny toy turtles he would distribute to creatively convey that "slow and steady wins the race." eBay, $47,500
• A new iPhone 6s, a 15-inch MacBook Pro, and black stainless-steel Apple Watch. Apple, $3,850
• Bodybuilding lessons for a year, to become a tough guy. Gunnar Peterson, personal trainer to Khloe Kardashian, $1 million (estimated)
• A bigger hoodie. American Apparel, $52
• Image rebrand. Olivia Pope & Associates, remaining ~$23 million
If Jeb! invests the rest in that, the 2020 primaries are bound to be even more fun than 2016!