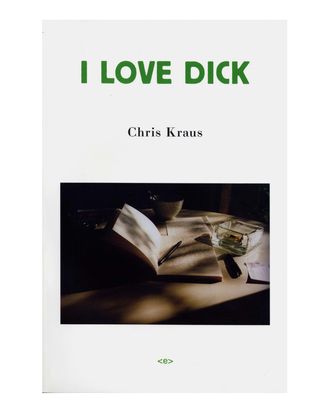 I Love Dick
Photo: MIT Press
Yesterday Deadline announced that Amazon ordered a pilot for a TV show based on I Love Dick; the series will be executive-produced by Transparent's Jill Soloway. If it's a hit, I can't wait to see what other adaptations of feminist classics it will spawn. Gender Trouble, the game show? A Vindication of the Rights of Woman, the live NBC musical? The Second Sex anthology mini-series produced by Ryan Murphy? (Actually, I'd be totally down with that.)
For those unfamiliar, I Love Dick, written by Chris Kraus — part memoir, part fiction, part critical theory — tells the story of Kraus's crippling romantic obsession with an academic she only identifies as Dick. Her husband, critical theorist Sylvère Lotringer, is complicit in Kraus's obsession: The book begins with dozens of letters the couple writes to Dick, both together and separately.

On the surface, the book tells the story of a woman obsessed with a man, a not-unfamiliar pop-culture concept. But if the typical version of this story suggests that women who pursue their romantic desires are insane and potentially dangerous, Kraus finds a way of claiming the power and meaning in her abjection. As Eileen Myles writes in the book's introduction, "[Kraus has] turned female abjection inside out and aimed it at a man."
A fundamentally philosophical work, it's hard to imagine an I Love Dick TV show; it's too abstract, too rooted in Kraus's interior life. The non-narrative elements of I Love Dick are what gives the text depth and force. Even when she's writing in the third person, she's claiming the right to tell a particular kind of story about herself as a woman, and that's part of what gives the book its power. Television, on the other hand, is a medium that tells stories best through action, strong unique characters, and dialogue. Each episode is its own little story; it's not meant for a primarily intellectual account rooted in utter subjectivity.
And much of Kraus's work is centered on her failure as a filmmaker. Of her film Gravity & Grace, Kraus writes "[It] was just so unappealing. It was an amateur intellectual's home-video expanded to bulimic lengths." Her films never found success because, as writer Joseph Henry explains in an essay on the topic, "They're not quite at home in conceptual, documentary, or narrative genres; they … accommodate stagy performativity, pointed gender critique, and highbrow textual sources." In short, they don't work because the complexity they try to convey is too layered for the medium. That's not a great precedent for a TV series.

There's a natural inclination to be possessive of the art you love, and I'm certainly guilty of that. But a book that's been heralded as "the most important book about men and women written in the last century" deserves the most careful of adaptations, if any adaptation at all. Like many other women writers, I found I Love Dick hugely influential: It taught me that you can use obsession to make meaning of who you are and how the world functions. In one of her letters to Dick, Kraus writes:
If I could love you consciously, take an experience so female and subject it to an abstract analytical system, then perhaps I had a chance of understanding something and could go on living.
Kraus asserts — quite radically considering the book was first published in 1997 — that her abject, emotional, distinctly feminine obsession deserves the same philosophical attention that men's fixations are automatically granted.
So I hope I Love Dick the TV show doesn't just rehash the novel, or serve as a reminder of why Kraus's films never took off. My hope is that in Soloway's hands, it becomes a beast of its own, taking the ideas behind the book and adapting them for a new, and wider, audience.