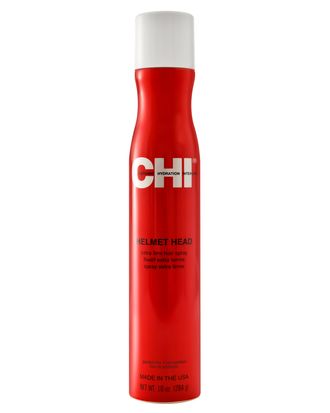 Trump's hair spray, CHI's Helmet Head.
Photo: Courtesy of CHI
It smells like berries. Not the farm-fresh variety that double as Instagram fodder, but the syrupy, chemical-laced kind, like a blue-raspberry slushie or children's toothpaste. It's slightly sticky and gives a really firm hold. Strategically maneuvered, it delivers a sizable amount of body. Welcomes, ladies and gentlemen, to Donald Trump's hair spray.
He uses CHI's Helmet Head, an insider once claimed. Naturally, Trump is bosom buddies with the hair-care brand's owner. I discovered that even the shortest spritz from the continuous-spray aerosol delivers a fearsome hold on hair. If you want an updo that will waver less than Trump's stance on immigration policy, you can't really go wrong with this formula.
For hair that's blown out into soft waves or curls, it's better to employ the trick I once learned at the Victoria's Secret fashion show: Spray the bristles of a paddle brush and then rake through hair. This way, the spray is diffused more evenly among strands for a lighter, more pliable hold. A stronger concentration of brush strokes near the crown of my head allowed a healthy amount of natural-appearing volume.
Helmet Head markets itself as a protectant against moisture and humidity as well. Though I can't say how it holds up on a muggy summer's day, the spray did shield my hair from the clammy conditions of a steamy bathroom. It doesn't make hair feel crunchy either, and brushes out relatively easily. Besides the too-sweet smell, my only other gripe lies in the finish of the spray. It left my hair looking a bit dull — nothing that a shine spray couldn't fix, but still. You'd think that a billionaire would use a hair spray that had worked out all the kinks.
CHI Helmet Head Extra Firm Hairspray, $16 at Ulta.