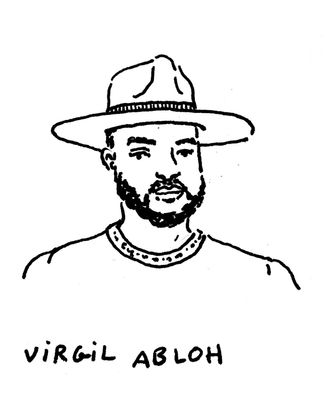 Illustration: Joana Avillez
In Fashion Feelings, we'll be talking to notable people about how fashion changed their lives. Here, Off-White designer and Kanye West creative director Virgil Abloh on how his childhood love of skate culture and early careers in engineering and architecture influence his design work today.
My background is in architecture. I started out as an engineer. But then I slowly arched toward fashion as an outlet. Those two career paths that I was on were so practical. But then, as I was going from engineering to architecture, I saw that there was a link between a practical world to this creative side of the fashion industry. It gave me this window to a career path that wasn't so singular. That treads this line between fashion itself — the clothing — to designing spaces, branding them, intersecting them with art. That path is where I enjoy being, living, and working within different genres of art, architecture, fashion, and furniture design. I understand how some people can be fixated on a certain genre of creating, but when I started architecture school, I went into it realizing that I didn't necessarily just want to design buildings. I wanted to learn the process of design so that I could apply it to different things.
My memories of fashion start before my interest in it. My mom has been a tailor for many years, so that's the industry side, watching her make and alter clothes. I was very into skateboarding growing up, the particular brands and styles. That was very important. Then I went through a streetwear phase — which is still my current thing. I was also very much into hip-hop, a lot of Nautica, Ralph Lauren Polo, Timberlands, Tommy Hilfiger. I went to a school where we wore uniforms, so it was about adapting that into a personal style. Being a skate kid and having all of that personality, but then having to wear a shirt and tie and dress shoes and tucking in your shirt was a cool juxtaposition, in hindsight, and has some effect on how I see clothing now. My collections, the ethos of my brand, are very much not one or the other but both: formal menswear and then a blatant streetwear aesthetic.
Today I find myself wearing the same style of clothes, a more opinionated and oftentimes more "luxury" version of what I was wearing when I was younger. I wear Supreme a lot; I refer to it as the Louis Vuitton or Hermès of skateboarding. It's expertly executed and very integrated within the culture. I also collect Hermès bags in the same way. Because, to me, it's the best execution of that particular thing. Or Chrome Hearts is a longtime favorite brand of mine because of the aesthetic and how expertly it's executed. Golden Goose, I think, is the expertly executed vision of a creative director. I find that the brands I prefer for my personal style are ones that have passion behind them and are made really well, with a particular point of view.