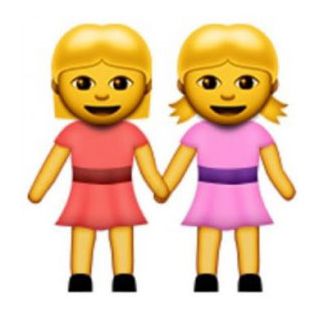 Society destabilizing emoji.
Last fall saw a great technological leap forward: the addition of more representative emoji to the keyboard. Tacos for everyone! The new set also included other important additions, like a variety of races and same-sex emoji couples. But that last category could disappear from your iPhone — at least, if you live in Indonesia.
The Indonesian government has asked WhatsApp and Facebook, among other apps, to remove LGBT-themed emoji and stickers from their Indonesian products and stores. A spokesperson for the country's Information and Communication Ministry told the AP that "Social media must respect the culture and local wisdom of the country where they have large numbers of users." It was prompted by Japanese app Line, which removed LGBT-related stickers from their Indonesian store after a backlash. While Indonesia doesn't legally bar homosexuality, it isn't exactly friendly to it, with certain regions taking particularly harsh measures against LGBT populations. The ministry spokesman also cited a concern that stickers and emoji could be particularly appealing to children. Emoji could be the subversive wave of the future.