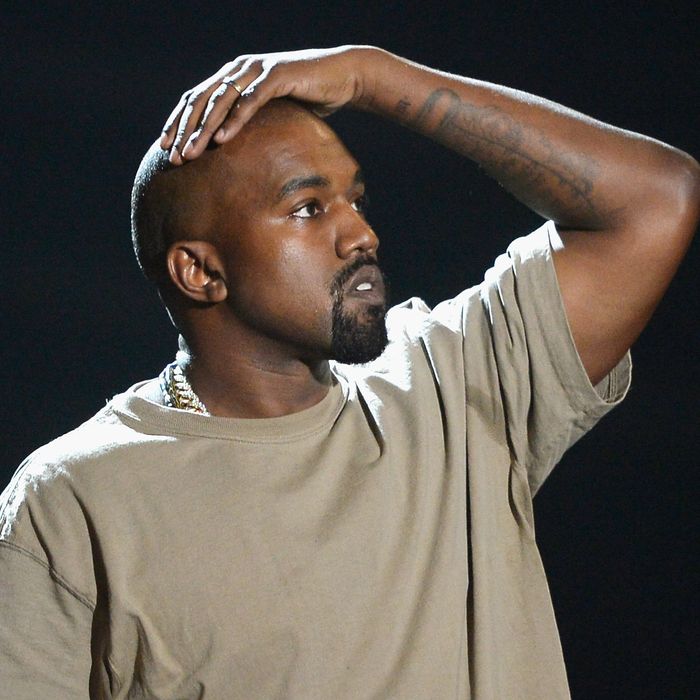 Kanye West.
Photo: Kevork Djansezian/2015 Getty Images
Kanye debuted Yeezy Season 3 at Madison Square Garden on Thursday, introducing both his new line and his new album simultaneously. Here's what you missed.
The show started when the entire Kardashian clan walked out from backstage and took their seats. Kim wore a blonde wig.
Lamar made his first public appearance since last year's health struggles.
Kanye introduced his first song off of The Life of Pablo, called "Ultra Light Beams."
During the end of that song he unveiled the collection. The participating models had very strict rules.
The collection has a very Yeezy aesthetic; it's basically what you'd expect from it, except with some more color.
Somewhere in there Naomi Campbell came out and she did not follow the rules.
And then this lyric happened: "I still feel like me and Taylor might have sex / I made that bitch famous / I made that bitch famous."
And this one: "Sometimes I wish my dick had GoPro / so I could play that shit back slo-mo."
Aaaaand this one: "I need every bad bitch up in Equinox, I want to know if you're a freak or not." (Equinox promo?)
"One of the hardest things to do was to get the talented people on the collection to believe in my vision enough to come roll with a rapper," Kanye said when the album ended. He then led the crowd in a "Fuck Nike" chant. Cool?
He thanked Carine Roitfeld and Olivier Rousteing, with whom he apparently designed all the Kardashian sisters' outfits in Paris a few weeks ago.
And closed it all out by replaying another song from the album, "Fade."
But then! Just when you thought it was over, he introduced a video game, called Only One, which is based on his mom traveling through the gates of Heaven.
He then announced he's lowering prices for Yeezys, and that it's a dream of his to become the creative director of Hermès. Every announcement Kanye could have possibly made has been made tonight.
We eagerly await Kanye's next venture, a fast-casual restaurant (probably).
This post has been continually updated throughout.