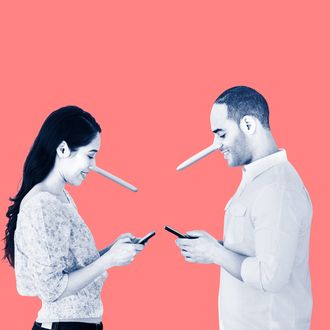 A recent edition of Vows, the wedding-announcements section of the New York Times, featured a sadly familiar fact about modern dating: the groom wooed his now-wife with a fib. In an effort to figure out what would make his profile stand out, Scott Birnbaum created multiple profiles on Match.com and finally zeroed in on what had been holding him back: his five-foot-five height. And so he fudged it, giving his online self a three-inch growth spurt.
His now-wife, Tracy Podell, caught on almost instantly upon meeting him; luckily for Birnbaum, she didn't really mind. "I understood the reasoning and I thought it was funny," she told the Times. "It's not like he was doing something bad or wrong."
This is an attitude that other online daters would probably be wise to adopt, according to one analysis of 80 online-dating profiles. The researchers, who were from Cornell University and Michigan State University, recruited men and women through advertisements on Craigslist and in The Village Voice. This way, the researchers were able to compare the volunteers' actual height, weight, and age to what they had listed on their profiles.
What they found will likely not shock you: Pretty much everybody lies. Overall, approximately nine out of ten profiles contained at least some kind of deception, though the lies were usually relatively small. Men, for example, tend to exaggerate their height by about half an inch on average; women, on the other hand, on average tend to claim that they weigh eight and a half pounds less than they actually do.
But there are ways to spot those liars. According to the study, liars sprinkle their profiles with some telltale clues — shorter profiles, for one. Then there are subtle linguistic subversions, like using fewer I pronouns; instead of "I love to play the guitar," they often reverted to something like "Love guitar." The authors suggested that perhaps not including I was a way to put a distance between the real self and the online profile. The same went for using negation (instead of "I'm a great cook," they might offer "I'm not a bad cook") and more optimistic, vaguely happy language ("I love life and love to smile").
This study is a few years old and uses primarily Match.com data; maybe fewer people lie on newer apps like Tinder or Hinge! Then again, no, probably not.