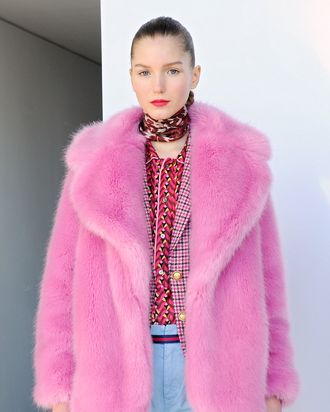 This one.
Photo: Catwalking/Getty Images
Maybe it was because everyone had Valentine's Day on the brain, but the bubble-gum-pink fur jacket from J.Crew has been popping up in all of our feeds since this afternoon's presentation at New York Fashion Week. The refreshed look comes courtesy of new womenswear designer Somsack Sikhounmuong, who was formerly the head of design at Madewell. While a lilac-clad Jenna Lyons proudly snapped photos, Sikhounmuong walked us through his debut collection for the retailer.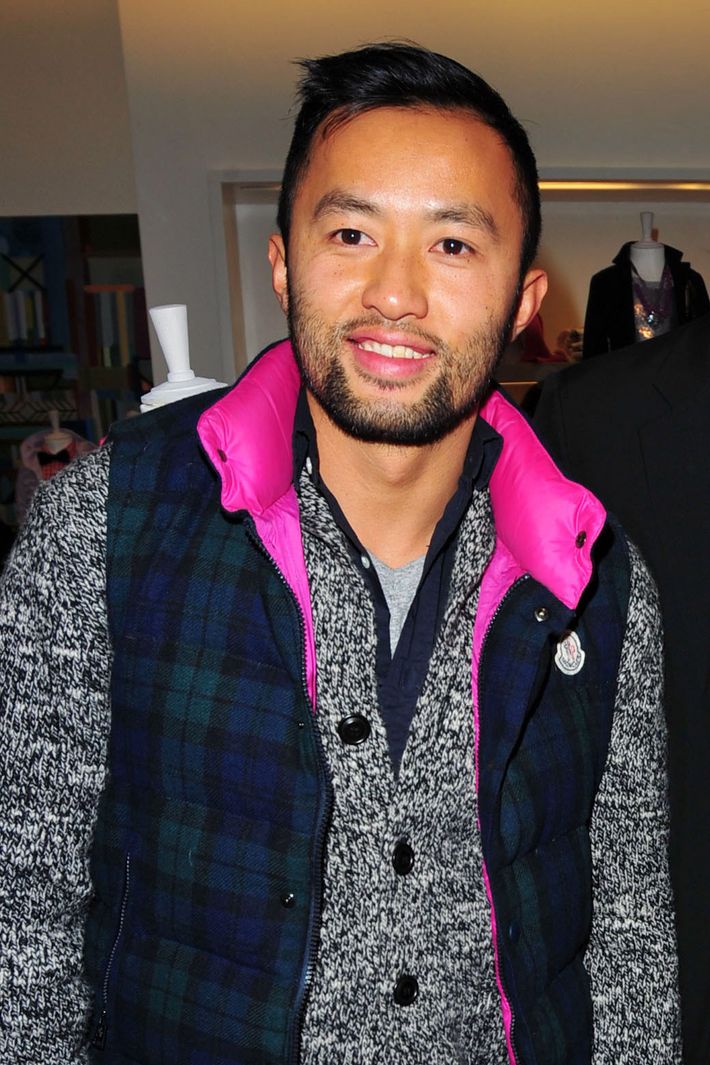 So how are you feeling?|
Oh gosh, I feel great. We were talking about how it's like when you make a crazy Thanksgiving dinner and you spent months and weeks and weeks gathering ingredients, making the perfect guest list, getting to the kitchen, making sure everything is cooked just right. This is much bigger than any dinner I've ever cooked. But today, it was like the table has been set and we've invited everyone and fingers crossed, everyone likes it.
What was it like transitioning from Madewell to this? How is the customer different?
At Madewell my tools were a pencil, a piece of paper, maybe charcoal, but here it's like all that, plus paints and sequins and markers. The aesthetic and the sensibility and the ability to turn things into classics is the same, but it's the tools you get to play [with] and how much you get to play with. It's definitely a little fancier, with sequins and lipstick and all that stuff, but in my head, it's kind of that approach.

So what was the inspiration this season? What kind of stuff were you looking at?
We talked a lot about "pretty." What "pretty" means, like old-school codes of pretty. So, pink, lots of pink, maybe a little ruffle here or there. Maybe the way a silk scarf uplifts an outfit. Being J.Crew, we always have to get some of that, sort of mens-y, tailored look to offset that. A lot of naval costumes and military [touches].

Like this naval peacoat? 
This is a peacoat we run all the time. We just lengthened it, and there's another one down there [points farther down the runway] where we just shortened it. So it's just tiny tweaks here and there. And we also looked at Italian interiors, with the prints and coloring, and then we looked at color. Just lots and lots of joyous color. We're calling it Baskin Robbins colors, 31 flavors, but the kind that's going to put a big smile on your face. We looked at dressage a little bit, just the neatness of equestrians post-competition, just the way someone dresses for that kind of occasion to offset the casual chino stuff that we always do.
Fashion is in a very maximalist mood right now. How did that inspire you this time around?
I think it was like the pretty conversation. We love prints and we do prints all the time, but then how are we going to do prints differently this time? So we cut them into silky men's pajamas, just really easy, and this is a great outfit, too: The check heart underneath the baby ruffles is great, but only off a basic turtleneck, so it's like the maximalist is like the pretty, feminine angle for us.
The styling for the shows is always very inspirational, but how does it translate into real life? Do you see people wearing stuff in this runway presentation configuration, or how do you see them adapting it in their own way?
For us, the show is always an aspirational take on our clothes. We were joking, too, literally there was a pink fur coat over there, and some of these more special outfits. The minute you take them to the back we hang them up individually, just like a basic men's shirt with a tie that comes off. This is just a suit that we run all the time, but we've cut it in pink. They're very approachable, easy pieces, but it's just the combinations we put them in.

I know you've been working with her for a long time, but what is it like collaborating with Jenna on this? What is her input into the collection?
We've known each other for so long, it's become shorthand, almost. A good example was just even this past week, working on the shoot. She was on her hands and knees pinning up the hems of the models. We run ideas with hair and makeup. There's definitely a level of trust, also, so it's not hand-holding, but she's always there if we ever have a question. She's been there longer than anyone else I know, so she's a great resource for those kinds of things.
This interview has been edited and condensed.