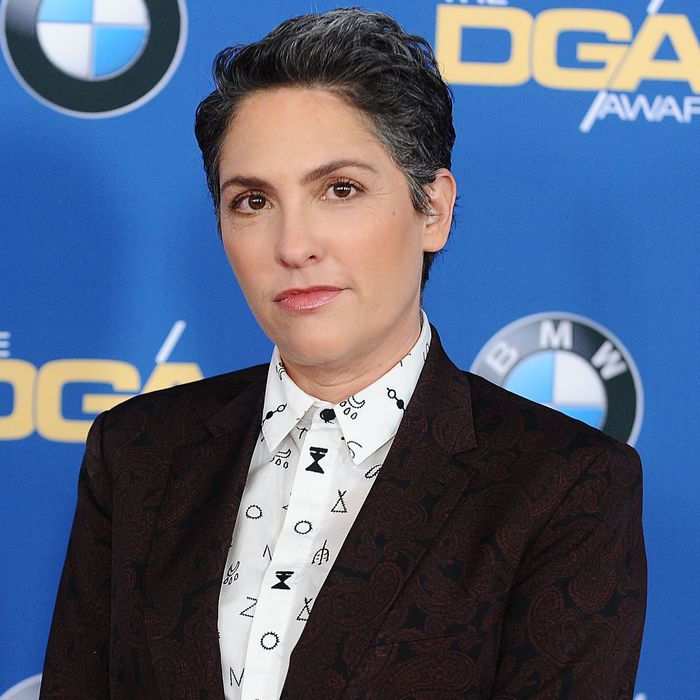 Transparent director Jill Soloway at the Directors Guild of America Awards.
Photo: Jason LaVeris/Getty Images
Jill Soloway may be living proof that a female director can win Emmy awards and plaudits for a groundbreaking show that turns gender roles on their heads, but ask her about the kind of stories coming out of Hollywood right now, and Soloway will tell you we've still got a long way to go. "Movies are the male gaze," she told the Cut at the Directors Guild Awards, where she was nominated a second time for Transparent. "Movies show how it feels to be a man for the most part." We talked to her about the challenges of being a woman in a male-dominated industry, the third season of Transparent, and how the show is changing lives — including her own.
What does it mean to be nominated by the Directors Guild for your work on Transparent?
It's pretty crazy. I guess that means I'm a real director. Can no longer deny it or pretend. I mean, it does feel kind of casual. I remember like three years ago, Jane Lynch brought me. I had just directed my first movie. It hadn't come out yet, and she was like, Come to the DGA awards with me. Come on the red carpet with me. Walk down the red carpet with me. She just pulled me out of my obscurity and said, You deserve this. So it's very fun to be back here a few years later.
What was the last film you saw directed by a woman?
I don't know if it's the last film I saw, but I love the movie The Diary of a Teenage Girl. It was directed by Marielle Heller. She directed an episode of Transparent last year. And it's an amazing movie, not just directed by a woman and written by a woman, but truly about the female gaze. How does it feel to be that 14-year-old girl who's trying to get a handle on her own sexuality and is having a relationship with her mom's boyfriend? It's really shown from her point of view.
As a woman in Hollywood, are there stories you wish were told?
A billion of them! Every single day. I mean, movies are the male gaze. Movies show how it feels to be a man for the most part. Trace (Lysette, Shea on Transparent) and I when we were driving here in the car, we were talking about just how desire is shamed for women in this country. Directing is about nothing if not desire. When you're a director, you have to go, "I want to see this. Now, I want to see that person. I want to cast that person. I want this color. I want this camera." You have to say, I want, I want, I want, over and over again. And women are so disconnected from their desire in this country because desire is shamed for women, that just women starting to talk about how it feels to be alive and to tell their own stories, to me, that would revolutionize the world.
How much of a creative battle is it still for you, even at your level, to get your vision past the male filter?
No battle whatsoever anymore. Thank God for Amazon and for Jeff Bezos and whatever their particular structures are that allow artists to do their thing. It's kind of unbelievable how much access I have.
TV seems to be doing a better job telling these stories. What do you imagine doing a film on the same topic would be like now?
I actually do think that because of social media and because of streaming and the way that people are having these real-time conversations about television, there's this distribution method that doesn't seem as powerful in film right now. When a television show starts streaming — Orange Is the New Black, Transparent — everybody's talking about it. And then it does really push into the culture. It does really pushes to the lawmakers. It pushes the conversation where Obama is talking about transgender [issues] in his State of the Union. And streaming seems like the place to be for those conversations right now.
Can you talk about season three?
Well, we actually have told a lot of the story line from the Pfeffermans' point of view, and in season three, we really want to tell the story line from other people's point of view, which is why Trace has such a big story line this year. There are other trans women who have a lot more screen time and a lot more antagonism. And we're just trying to move the place of protagonism, not only from our Pfeffermans, but other people as well.
This show seems to have given a lot of people an ability to take a look at their own lives. It helped Amy Landecker get through her divorce, and you're going through something very personal [Soloway recently came out]. What do you think it is about Transparent that made that happen?
Well, I think when my parent transitioned, everybody in our family probably started a transition. When Maura transitions, everybody in her family transitions. I think when one person says, "This is me," everybody kind of has to fall in line and go, "Okay, well, I guess if you're going to be yourself, and you're going to take risks, if you're going to insist on being yourself, I have to be my most authentic self as well." So you're right. It's changed a lot of lives. It's a little bit of a cult. It's given people careers and courage. It's been amazing.
This interview has been edited and condensed.