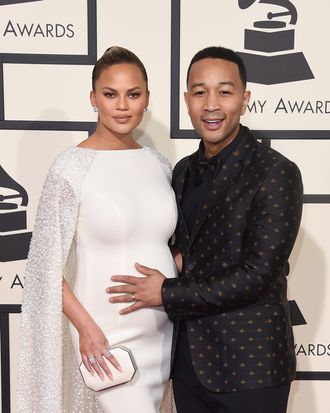 Chrissy and John.
Photo: Jason Merritt/Getty Images
Chrissy Teigen is shy about absolutely nothing. She's spoken openly about treating her infertility, even admitting that she was giving herself pre-IVF injections during her Sports Illustrated "Swimsuit Issue" shoot. It worked! She and husband John Legend are expecting a girl this spring.
So it wasn't all that surprising when, in a new interview with People, Teigen shared even more details about the process. "Not only am I having a girl, but I picked the girl from her little embryo," she said. "I picked her and was like, 'Let's put in the girl.'" Later, she said a boy is probably also in the couple's future.
Congratulations, your daughter is destined to be a Twitter genius.