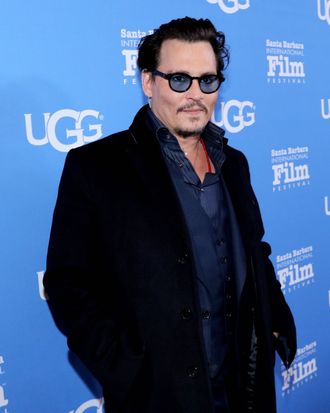 Johnny Depp
Photo: Mark Davis/Getty Images
Rarely in Hollywood will you hear stars be completely honest about on-set tensions with their castmates. But Johnny Depp is not afraid to tell you that he was once kind of a dick to Leonardo DiCaprio 23 years ago.
Depp acknowledged that, while filming What's Eating Gilbert Grape?, he was not down to hang out with a then-19-year-old Leo. Said Depp: "He was always talking about these videos games, you know? I told you it was kind of a dark period. 'No, I will not give you a drag of my cigarette while you hide from your mother again, Leo.'" Honestly, he may have a point. Nineteen seems a little old to be either chattering about video games or hiding your smoking from your parents.
But both have matured since then. Johnny Depp has gone on professionally to be everyone's kooky uncle. And Leo has graduated from sneaking cigarettes to vaping so flagrantly that we're pretty sure his mother knows.