Yeezy Season 3 Was Like Dying and Going to Fuccboi Heaven
Photo: Kevin Mazur/Getty Images
When a fuccboi takes off his New Era snapback hat and settles into bed for a night's rest, his thoughts go so many places. He wonders when the next Supreme will drop and if he'll be ready. He wonders why Four Pins had to end. He wonders if his look is starting to skew too health goth, or if he's swirled it all with the right amount of Biebs. Finally, as the fuccboi drifts off to sleep, his imagination takes him to the happiest place he can ever dream of: Fuccboi Heaven.
Today I went to that Fuccboi Heaven, otherwise known as Madison Square Garden, where Kanye West debuted his collection for Yeezy Season 3 and played all the songs from his yet-to-be-dropped album. A blessed event, indeed. And I stood on the floor among the fuccbois in their hypebeast garments, Supreme hats, perfectly positioned knit beanies, Thrasher hoodies, and limited-edition this and thats. I swayed and bopped with them as they listened to Kanye West's The Life of Pablo, as they praised his genius, brilliance, and fire tracks (not really the clothes). I got the contact high of the fuccboiphoria they felt from being among the first 20,000 people (by Yeezy's estimate) to hear TLOP and buy merch that nobody else can get — the highest of highs.
I know what this heaven looks like. Let me describe it to you, though I may not have to, for in Fuccboi Heaven there is a crystal-clear livestream that never has to buffer, so you probably saw it already.
In Fuccboi Heaven, every Kardashian-Jenner, from Kris and Caitlyn down to North, is there to greet you at the pearly gates, wearing kustom white Balmain ensembles that Olivier Rousteing lovingly designed for them. (He's there, too. In heaven, fuccbois can finally get some Balmain.) Archangel Naomi Campbell is there. As is Lamar Odom, because what heaven would ever leave Lamar Odom out in the cold. And Donda, she's there, too, as an angel riding a Pegasus in video-game form. This is not something we question, because who questions miracles.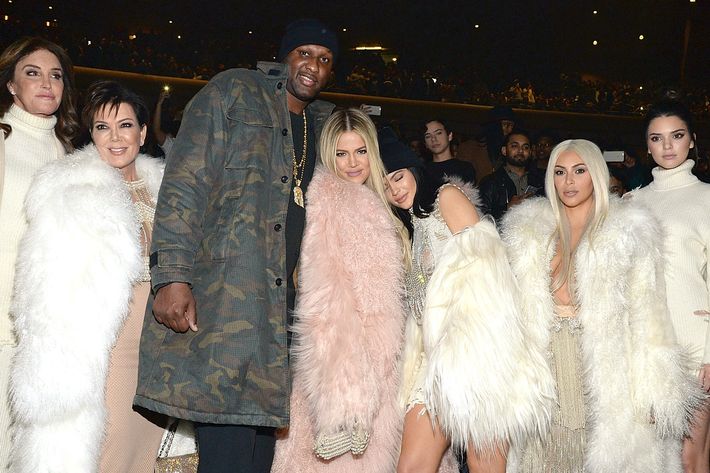 In Fuccboi Heaven, Kanye is god — all fuccbois were made in his image, after all. It is because of Kanye they can wear tight jeans. And, yes, while Carine Roitfeld and Anna Wintour and Jaden Smith and Waris all sit in the stands, it is the fuccboi who gets to be closest to Yeezus at his altar, the DJ booth. It is the fuccboi who gets to stand in the orbit closest to YeezSun, with A$AP Rocky and Jay Z and 2 Chainz and Tyga and a lot of blunts. While the models might be the most devoted, fastidiously following all the rules Yeezy has set, it is the fuccboi, the one who waited three hours in line to cop some Yeezy Boosts, who gets to stand close enough to touch the hem of Kanye's garment as he passes through the crowd.
In Fuccboi Heaven, there is dancing, even though the music is almost too loud to decipher. It's the cool type of dancing, where nobody sweats or messes up their perfect Macklemore undershave. They just bob along to Kanye's songs, and they already know all the words.
There is also the word of Kanye, who speaks for what feels like hours and hours, mostly about Kanye. Who rallies his children, the fuccbois, with talk of … I'm still not sure what. But when he calls, his fuccbois respond. When he asks them to cheer, they cheer. And when he asks them to chant "Fuck Nike," they try. Yeezus knows they try. But when they look down at their limited-edition Jordans they spent hours on eBay to win, they can only remain silent. Even for Father Kanye, even for a spot in heaven, a fuccboi could never take the name of Nike in vain.