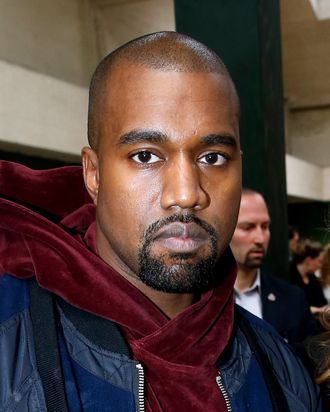 Late to the party.
Photo: Bertrand Rindoff Petroff/Getty Images
Kanye West is ruffling feathers, and not just on Twitter. Fashionista has an item today about how designers Marissa Webb and Adam Selman have quietly rescheduled their New York Fashion Week show times, which is probably a smart move considering they're up against the Madison Square Garden–centered, celebrity-paced show/possible Waves debut/gridlock extraordinaire that is Kanye's coming Yeezy Season 3 event.
A similar kerfuffle took place during the lead-up to last season, as designer Anne Bowen complained to WWD that it was "not ethical" of West to crash her slot on the calendar. Webb, at least, had a coy take on the calendar change: "Due to unforeseen circumstances, we are 'swishing' the time of the show to 3 p.m. on Thursday, Feb. 11. Sorry for making 'waves,'" her rep wrote in an email to invitees.