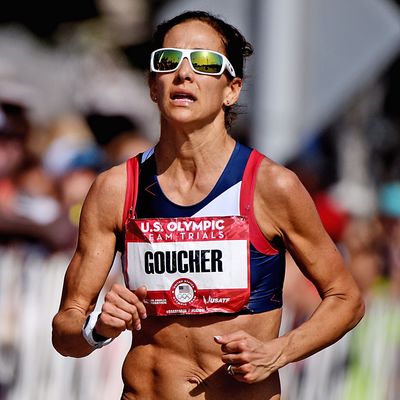 Kara Goucher competes in the Olympic Marathon Trials on February 13.
Photo: Jonathan Moore/Getty Images
In news coverage before, during, and after the recent Olympic Marathon Trials, 37-year-old professional runner Kara Goucher was described as many things: resurgent, old, a two-time Olympian, and a mother. She's a bit conflicted about that last designation, at least when it's offered as a consolation prize.
Goucher — who finished fourth in 2:30:24, one crushing spot off the U.S. Olympic team — told reporters at an event on Tuesday that she has mixed emotions about TV commentators and writers mentioning that she's the mom to Colt, age 5. 
"I think it's important for people to know I'm a mom, but sometimes I feel like it's overkill. I'm not weaker because I'm a mom. She got fourth and she's a mom. Yeah, I fucking got fourth, period, why do you have to add that?" she said. "Sometimes it bothers me, like, I'm not just a … I'm proud to be a mom, I love my son, I love that my life is a little bit more complicated. It's almost like a qualifier: You got fourth, but you're a mom. And that, I'm like, No, but I'm a competitor. I go both ways on it."
It's like saying she was fourth overall but first in the Has-Birthed Division. Maybe that factoid is meant to be inspiring to other parents (and, hell, other 37-year-olds, and anyone in history who's ever gone for a run), but it feels a bit reminiscent of the having-it-all trope.
As for Goucher, she has another shot at the team, this time on the track. She's decided to chase an Olympic qualifying time for the 10,000 meters, which, at 6.2 miles, is a full 20 miles shorter than the marathon and run at an even more gut-busting pace. She'll have to find another gear and then make the top three at the U.S. Olympic Track Trials in July.
"That dream of making a third Olympic team has gotten me through a lot, especially the last year … There's still one more opportunity so I'm focused on that." Like a true competitor.