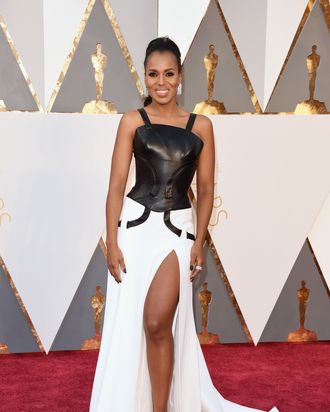 Kerry Washington.
Photo: Jason Merritt/2016 Getty Images
During their Oscars red-carpet interview, Robin Roberts and Kerry Washington discussed one of the biggest topics surrounding this year's Oscars: the overwhelming whiteness of the nominees for major awards (launching the hashtag #Oscarssowhite), and what should be done about it.
While the Academy made a push to ensure the presenters would be a little more diverse than the nominees, that effort falls firmly into the category of "too little, too late," and there were calls for a boycott of the awards. Washington mentioned that people had asked her why she chose to attend the ceremony.
"If you look at the history of movements, the history of change, a lot of voices are needed at the table. So I really respect and actually admire some of the people who are not here tonight," she explained to Roberts. "But for me, I felt like my voice is best used at the table. As a new member of the Academy, I really want to be part of the conversation to make sure that there's institutional change, so that we never have a year like this again, so we can be as inclusive as possible." Kerry Washington, gladiator on TV and in life.