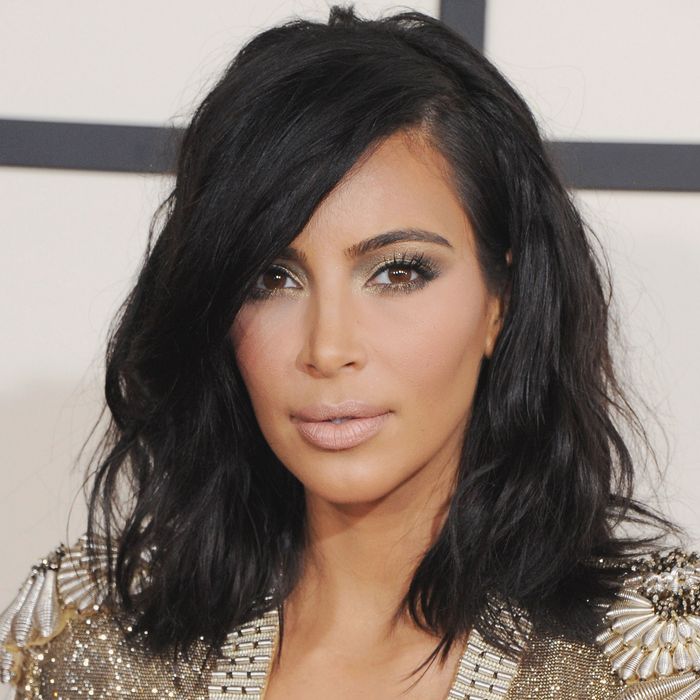 Kim Kardashian.
Photo: Jon Kopaloff/Getty Images
On Sunday, red-carpet commentators will ask Oscar nominees how they prepared for the big night, but none of them will ever admit the truth: "By working hard for years, enduring some truly terrible jobs, and seeing my dermatologist more than my own mother." But Hollywood's most famous dermatologist, Dr. Harold Lancer, who treats the complexions of Kim Kardashian and Beyoncé, knows exactly how much prep the red-carpet circuit entails. Below, he explains what awards season is like for him.
My office is busy all the time, but awards season starts around the first week of March because every awards season is important. I am a solo physician, but I have a staff of about 25. I see 50 to 60 people per day — we can't see more than that. I'm involved in the treatment of just about everybody, starting from 7 a.m. to about 5–6 p.m.
The majority of people who get nominated know about two months out from the awards ceremonies that they're on the short list. For the Golden Globes, I had about 34 people on the red carpet. For the American Music Awards, about 19. This Oscars season, around 27 or 28. The paparazzi are here constantly. They live in the trash cans.
The most requested thing is fine-tuning the complexion so that the face, neck, and chest skin read as one uniform entity. Some of these people are wearing strapless or one-shoulder dresses, so it all has to match. Both men, women, 18-year-olds and 80-year-olds, are in hypermode with skin care. If they're my patients, they do the Lancer Method.
Nowadays, lifting and firming the skin is more important than pulling. Plastic surgeons know this, which is why most of them now are doing mini, mini incisions and fat transfers to try and lift the skin, rather than cutting and pulling. The problem with pulling is that it always makes you look stretched, like you can't move your neck. Those days are over. You want to re-create the inverted triangle, inverted pyramid look. That's why children look like children and old people look like old people. If you think about it, children are always broader in the forehead, smaller in the chin. Here's what an average treatment plan is like for someone leading up to the Oscars:
Three months out: The amount of plumping and neurotoxins that's done now has been drastically diminished. I may still do 20 patients a day for it, at about half the volume dosage. I'll do "babytox," which is about half the volume that most people are used to for volume replacement. What people really want is a little bit of change in light reflection, a little curvature in the skin line, but they don't want to look like Gumby. It's about redefining shadows, that's what fillers are meant for. The word filler is banned in our office — we call it micro volume replacement.
One month out: Body treatments are similar to the face. We call it "from the dinner table up," which is making sure that the hands, arms, shoulder, face, neck, décolletage match. Depending on how the dress is cut, that can also include the foot, leg, thighs, and midsection. We might clean up discoloration on the side of the breast and torso. With fashion these days, people need to be prepared to be semi-nude at this thing. The fashion stylist who takes care of these people pretty much tells us what rough area or body surface area is going to be involved. Halo, a light source that refines small imperfections in skin color and superficial texture, might be used. It has about three to four days of downtime.
Generally, with proper Pilates, exercise, and nutrition, within the population that I see, most don't need a lump of fat dissolved. The diet part of it is carefully watched. Thanks to managers, nutritionists, and dieticians, they're on a low-salt diet, low-carbohydrate diet like they're being tuned for a bodybuilding competition. People from all walks of life don't want to look chiseled, they just want to look less wrinkled, ripply, and more uniform in their silhouette. If you have a woman who is naturally a size 16, she doesn't want to be a size 8. She wants the Spanx look without the Spanx. For cellulite, we use something called Legacy, which uses multi-focal radiofrequency to even out irregularities in texture. Someone might do this one or two times weekly, starting the month before.
Four to six weeks out: The more important procedures are done about this time. People will do radiofrequency, which has replaced Fraxel and Thermage, and might do it with microneedles. You can do it every other week with the last treatment about three to four days before the show.
Another thing that might be done is the PicoWay. It's a color-blind, super-fast radio frequency machine. They have a new attachment called the PicoWay Resolve, which is used to hand-tune the skin. It has two to three hours of downtime and uses a very fast infrared frequency of light. It plumps collagen production, reduces pore size, and does color blending with no downtime. It also lifts and firms the skin.
Three weeks out: The newest trend now coming out is the String Lift, or what's called the Silhouette Instalift. Again, it has to do with lifting and not pulling. I've done about 100  since it [received FDA approval] in April. It's an injectible string put in with a microneedle, and it "lifts" like the way the sails on a sailboat stay in position with different strings. The strings pull the tissue upward, lifting everything back to its original position without cutting away skin. It's for someone who doesn't want a face lift or had a face lift that has gone south. They might want more definition in the face or bands under the chin and want them minimized. The string dissolves in about six to 12 months.
A few days out: This is when people do tune-ups, like race cars going in for pit stops. You won't be doing anything this major this close in. Some will do vegan stem cell facials, and a few might do a last-minute procedure called Microthreading to define and texturize. Think of it like 1,000-thread fancy cotton sheets — the microthreads are like Egyptian cotton threads, and the procedure leaves virtually no bruising. It dissolves in six to eight months, and is finer and doesn't have the same amount of lift as the threads used in the Silhouette Instalift. We would use these if someone has dented skin from old acne scars, and for more smoothing and texture enhancement. Just yesterday, we did a little bit of threading on the lip for someone up for an award. It gives a little bit of definition, without augmentation, and looks very natural so you have a more defined line for lipliner and lipstick.
In my world, we're more about re-creating what existed, rather than creating something that never existed. I'm a dermatologist who deals with restoration rather than making something that is imaginary. As a generality, entertainment people today want to look good, but they don't want to look altered. Hollywood wants restoration or else you can't get work. Once you're altered in the world of Hollywood, you're screwed.
I turn away people all the time, every day. People will say, "I flew here from Moscow. I've been treated by so-and-so and I hear you're the guru." Then I say, "I won't do it" and explain why it's not a good practice of medicine. Every single patient is my calling card. If someone is looking odd, that's a bad sign on my report card.