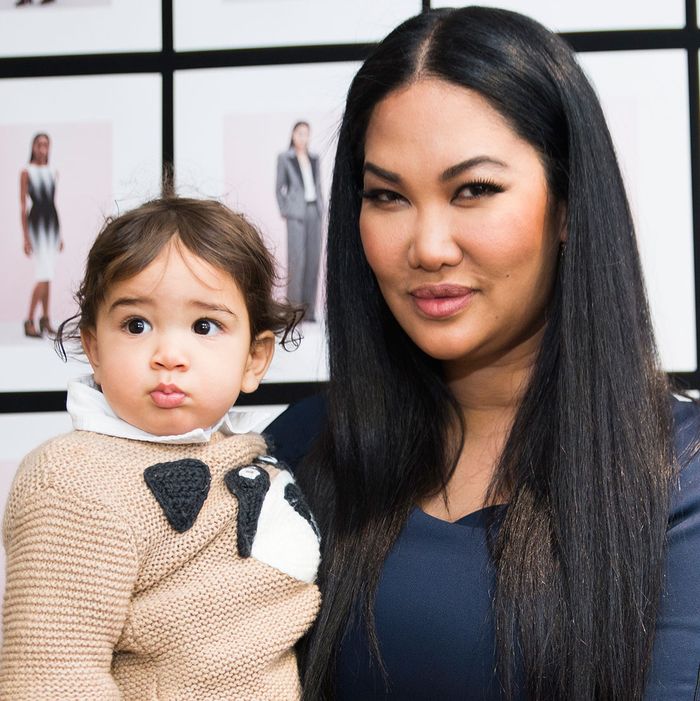 Kimora Lee Simmons: Maybe the next great business self-help author?
Photo: Jenny Anderson/Getty Images
All I really want from Kimora Lee Simmons is Baby Phat, but the clothes she designs now are generally helpful. Everything is very attractive and seasonless without looking boring: a sheath dress designed to flatter all bodies; classic trousers that come in basic black, impractical white, and a more interesting burgundy; a few formal dresses that could be reworn for various formal events. "I was inspired by The Thomas Crown Affair — the old one and the new one," Simmons told me.
With a store in Beverly Hills and one in New York, the collection needs to appeal to a woman on either coast. While presiding over a presentation of the new line in her 3,000-square-foot studio in Soho, Simmons explained the coastal differences to me: "The New York woman has four seasons. L.A. gets hot, and then she gets cool. The New York woman is a little edgier in her fashion," she said. "The L.A. girl is a little more laid-back, even if she's still refined. New Yorkers, they're more on-the-go, hustle and bustle. We all travel, so you need a great coat, a great pant."
I just got back from L.A., I told her, and I asked her where she'd been recently. "See, we love to travel! I just came back from Switzerland," Simmons said. "My girls are in school there. They are doing a year of international study because I didn't want them to grow up young girls in Beverly Hills. They're in the mountains, they ski every day, they speak different languages. They need more diversity. They've been on TV. We know them. That's why I don't do TV anymore. They won't be doing it anymore."
I asked her if she ever missed reality TV. I, for one, loved Kimora: Life in the Fab Lane and wouldn't mind seeing her on VH1 or E! or something.
"No way! I've been there and done that," Simmons said. "I'm married to a banker. We have six kids. I'm running a business; we own sports teams, energy drinks, TV networks. I'm doing other things. But I was trying to show people what I was making, what I was building, how it was done. You saw that I juggled life. You never saw me naked or acting up. I got out of it before it got crazy. I don't need to do that. Now you have people who do it because they need to do it. They are getting paid, like, $5 to show all these ugly parts of themselves. For me, it was always about work. That's the ugly part: the deadlines."
It sounds like she still has a lot to teach us about work and life. Perhaps she'd like to write a follow-up to Fabulosity: What It Is & How to Get It, but this time maybe more business-focused? Like her version of Lean In?
Simmons turned to her assistant. "I want to write a book. Did you hear that? I'm going to write a book." She turned to me. "What will it be again?"
"Like Lean In?"
"Like Lean In," she said to her staff.
We can call it Lean In Further, someone suggested. "Or how about Lean In Some Mo?"
"Will we get sued for that? Well, let's make it happen." With that, Simmons went back into her office and sat at her desk, her team behind her, presumably to write the next big business guide, which I would like to read.