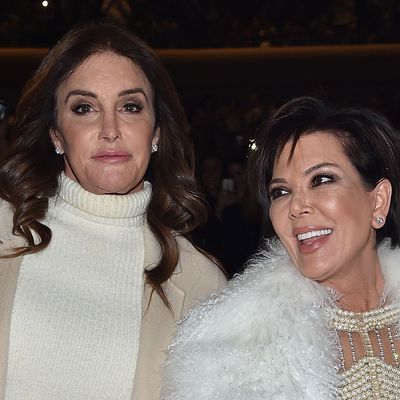 Kris Jenner enviously eyeing Caitlyn's outfit.
Photo: Dimitrios Kambouris/Getty Images
Last week, Fashion Police invited Kris Jenner to join their discussion of New York Fashion Week style. The Kardashian family matriarch talked Kanye's intense feelings about his designs ("I don't think any of us would dare say we didn't like it.") and then declared her picks for the traditional Best and Worst Dressed.
For worst she called out Caitlyn Jenner. "Before you judge me, I can't handle the shoes with the skirt," Jenner explained over a chorus of hoots from the audience. "The second reason is because I really would have liked this outfit for myself. I'm a little jealous! I'm a little angry that I didn't get that skirt, to be honest."
Like any good Kardashian Klan member, Kris kept focus on the family for her "Best Dressed" selection as well, declaring a tie between daughters Kim and Kylie. How can you expect a mother to choose?