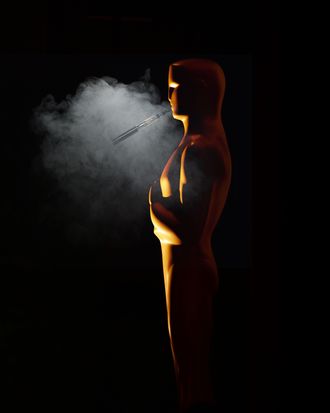 Oscar Man Living His Best #VapeLife
Photo-Illustration: Getty Imags
Getting nominated for an acting or directing Oscar means a bunch of things: You've probably achieved your wildest dreams, you probably got paid millions of dollars to do so, you're white. Oh, and you're going home with a Haze Dual Vaporizer ($249.99), a 10-day all-expenses-paid trip to Israel ($55,000), a Vampire Breast Lift ($1,900), and Chapstick ($6).
That's right, this year's Oscars gift bag is even more extravagant than in previous years, which means white people will be doing what they do best: receiving special privileges just because!
Here are some other noteworthy items these rich people will get for free:
• A lifetime supply of Pu-erh Tea Nourishing Cream and Pu-erh Tea Cleansing Bar ($31,200, or how much you owe in student loans)
• A private walking tour of Japan for up to 15 days ($54,000, which is about the median annual salary in the United States)
• Gleener on the Go ($11.99, your checking account balance)
• 740 Park plastic surgery ($5,530, or twice the combined value of everything you own)
The gift bag is so cartoonishly lavish that even the Academy is embarrassed. In fact, they're suing Distinctive Assets, the marketing company that's providing the swag, claiming trademark infringement.
Here's a novel idea: How about Distinctive Assets gives the gift bags to all the black people the Academy "forgot" to nominate?