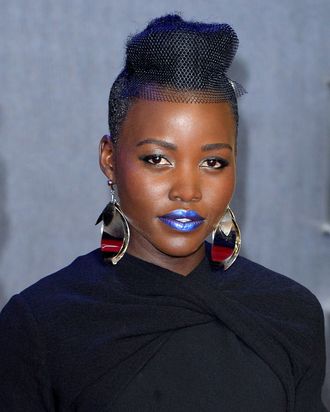 Lupita's brave blue lips.
Photo: Anthony Harvey/Getty Images
Have you worn lilac or blue lipstick yet? No? Then you're not Lupita Nyong'o, who hasn't played it safe with her lipstick choices since she burst onto the red-carpet scene two years ago. With her longtime makeup artist, Nick Barose, who also works with Tessa Thompson and Rachel Weisz, Nyong'o has worn every shade of the lipstick rainbow from orange to burgundy to purple.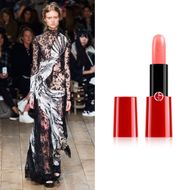 Alexander McQueen dress and Armani Rouge Ecstasy Lipstick in 302 Tokyo: "There is a lot of skin showing and a lot of lace details and pattern, so a bold lip would make it too much. Sometimes you have to step back with the lipstick and go with a soft, sheer nude with a hint of pink to remain the romantic vibes."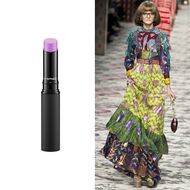 Gucci dress and M.A.C Mattene Lipstick in Strutting Fabulous: "There is something fun and cartoony with the color and the print, so a cartoony color like a lavender stain can tie it together."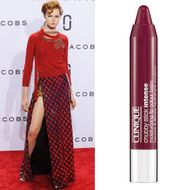 Marc Jacobs separates and Clinique Chubby Stick in Grandest Grape: "This is a hard one. The top is bright, bold, and red. Usually, you don't want to match but if it's too nude, the face will get lost on the red carpet. A fresh raspberry shade helps tie in the blue/red tone in the skirt while adding color to her lips, but it's not too loud a color to compete with the bold top."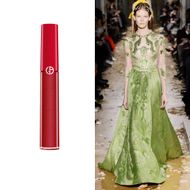 Valentino gown and Armani Lip Maestro in 300: "Green is a tricky color because anything too red will just scream Christmas! The color is fun but the tapestry pattern calls for a funky lip color like a matte orange stain. It's glam but not too serious."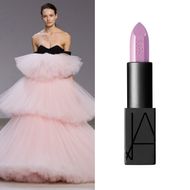 Giambattista Valli gown and NARS Audacious Lipstick in Dominique: "It is a big, grand dress in a sweet pink color, which can go too ballerina if the makeup is also too sweet. A mauve-y pink helps it stay in the pink realm but the cool tones in it make it slightly strange and not too precious of a pink."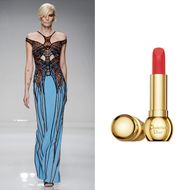 Versace dress and Dior Diorific 021 Icone: "This interesting color combo and cut calls for something bold on the lips, too, but a noncompetitive color. I'd bring a hint of sepia-orange tone to decorate the lips."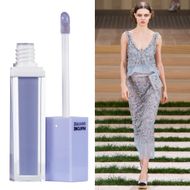 Chanel dress and Sephora Modern Watercolors Set: "This icy-blue color can go too sweet. You want a color that's a bit unusual but not too weird. I like this icy-blue lip gloss-oil combination. It's okay to go matchy-matchy in this case, if the color is unusual and interesting enough."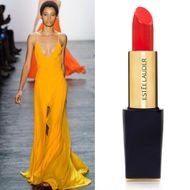 Prabal Gurung gown with Estée Lauder Pure Color Envy Sculpting Lipstick in Daring: "This has such a strong, bold color but a simple cut. I'd go bright with an orangey-tangerine shade that helps accessorize and glam it up a bit."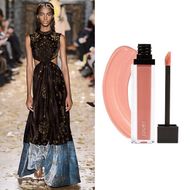 Valentino gown and Jouer Liquid Lipstick in Pamplemousse: "The richness of the velvet shine and the gold details calls for something equally rich but in a soft color like this bronzy nude."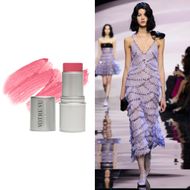 Armani dress and Votre Vu Vu on Rouge in Amourette: "The color of this dress looks like petals, so picking a soft, pink stain that mimics pink peonies will give it a fresh, sweet, and modern attitude. And it can be used on both cheeks and lips."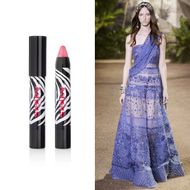 Elie Saab gown and Sisley Photo LipTwist in Sugar: "This dress is a pretty, ethereal royal blue. To keep it fun, flirty, and fresh, you need something with a sheerer texture but a hint of shine to keep it youthful, especially with the beading detail."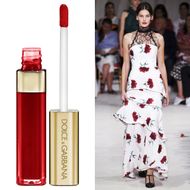 Oscar de la Renta dress and Dolce & Gabbana Intense Gloss in Ruby 110: "This floral and lace look is feminine, so you can add a touch of badass with a femme fatale fire-engine red. Think film noir's leading ladies, with a bit of glossy sheen to make it look youthful."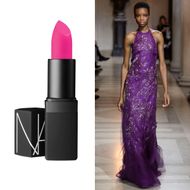 Carolina Herrera gown and NARS Schiap: "Even though the dress is purple, it's not a super-bright color so you can afford to go bright on the lips. This magenta has a similar purple tone but isn't matchy-matchy."