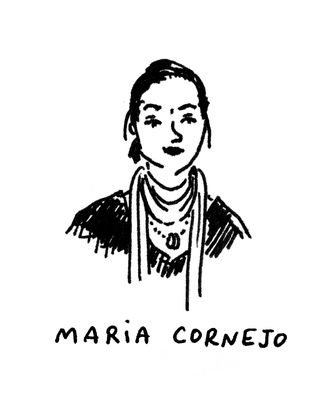 Illustration: Joana Avillez
In Fashion Feelings, we'll be talking to notable people about how fashion changed their lives. Here, designer Maria Cornejo on making her own clothes.

I was always interested in clothes. My mother was really into clothes. She was an art director and a teacher. I was born when she was 20 so she was in her late 20s when I was 8. She had great outfits and used to go out a lot, with her hair high and looking very glamorous and very beautiful. She was so young.
My mother had her dresses made. In those days in Chile, the early '70s, people had dressmakers make their things. With the leftovers, my sister and I always had a matching outfit. She had an outfit, we had the mini version. That was the very late '60s, early '70s way to dress your kids. My grandmother also taught me how to knit and I used to make clothes for my doll. A bit of typical "fashion designer story," I suppose.
Later, when I was in high school in England, I wasn't sure that you could have a career in fashion. In those days, there were very few fashion magazines. I didn't realize there was a school where you could go and learn how to make clothes and design. I thought you just had to be discovered somewhere, like a film.
I did go to fashion college, where I was a little punky, a little Bow Wow Wow. I wore red eyeliner. At the time Vivienne Westwood was really big, so it was a lot of that. London was having a really big moment. I was mixing vintage with things I had made. I got fired from my first job in a store when I was a student, because I kept wearing my own things and people kept asking me where they were from and the owner of the store got annoyed with me. So I got fired because I couldn't afford to buy the clothes from the store. I was a student so I used to make my own stuff. I had some crazy outfits going on: turbans with my hair braided, long skirts, shoes that were very big. I was very into the whole Japanese thing.