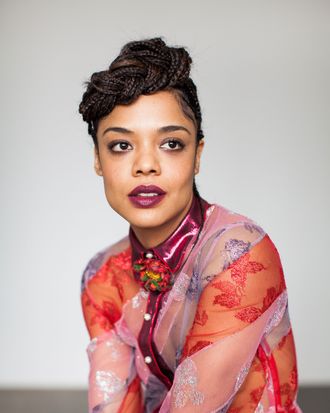 Tessa Thompson in Gucci Dress, $12,500, available at select Gucci stores nationwide and gucci.com.
Photo: Andre Wagner
Thirteen years ago, Tessa Thompson took the stage at the Boston Court Theatre production as Juliet in Romeo and Juliet: Antebellum New Orleans, and she hasn't looked back. Her performance earned her an NAACP Theatre Award nomination and led to appearances on shows like Cold Case, Veronica Mars, and Grey's Anatomy, but it's taken some time for mainstream media to realize her immense talent. Now, with leading roles in the Rocky franchise hit Creed and the new off-Broadway show Smart People (directed by Kenny Leon from the NBC musical The Wiz), Thompson is poised to become a household name, following in the footsteps of legends like Lena Horne, Dorothy Dandridge, Ruby Dee, and Halle Berry.
One sign Thompson isn't your average actress: her earnest desire to create grounded, honest characters. Over the course of her career, she's already tackled issues of sex, race, and abuse, avoiding the cheeky-girlfriend roles that actresses succumb to more often than not. She takes her position in Hollywood seriously and credits her family for encouraging her freedom, saying, "They gave me the gift of never pressuring me to be anything other than who I am."
After a string of underappreciated films like Tyler Perry's adaptation of Ntozake Shange's For Colored Girls and Mississippi Damned, she found her footing in 2014, starring in Dear White People and Selma. Dear White People's poetic satire about race and identity immediately resonated with audiences and became an instant Sundance success. Throughout the movie, Tessa's character Sam White struggles with her identity, something Tessa says she never saw portrayed on screen before. "When I read Dear White People it felt like such an indictment of Hollywood. I had been working for about eight years, and there was just a status quo that you begin not to question. You say to yourself: 'This is how it is' or 'Yeah, I just auditioned for the sassy black friend.' For me it was the first role in a long time where there was a protagonist who was a black woman, specifically a multiracial black woman who wasn't just the object of a narrative but the subject."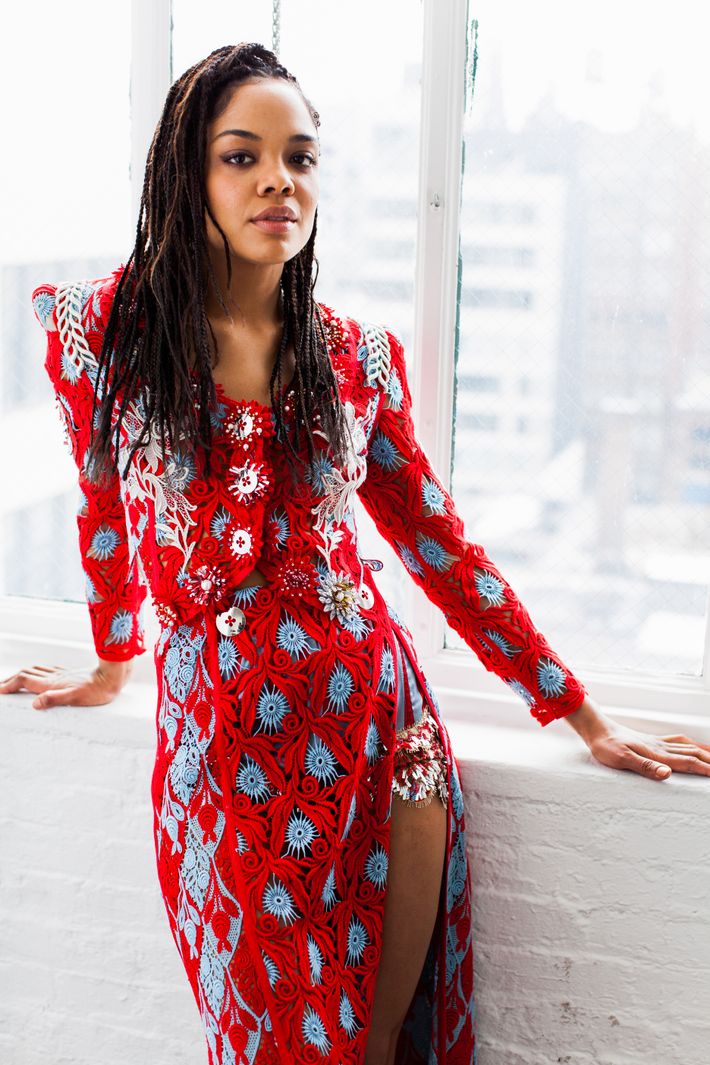 Marc Jacobs Cropped Sweater, $3,200, available at select Marc Jacobs stores and marcjacobs.com; Marc Jacobs Skirt, $2,208, available at select Marc Jacobs stores and marcjacobs.com; Marc Jacobs Silk Panty, Price upon request at select Marc Jacobs stores and marcjacobs.com; and Dolce & Gabbana Shine Lipstick at Naked, $34.50.
Because Dear White People resonated so well with her, she vowed to focus only on projects that similarly left her altered by the experience. Cut to two months later when Ava DuVernay started casting for her Oscar-nominated film Selma, in which Tessa played civil-rights activist Diane Nash. During the filming, the cast got to sit with civil-rights leaders like John Lewis who led the demonstration we now call Bloody Sunday. "To us [the cast], they were demi-gods — almost a new kind of celebrity. It was incredibly useful to recontextualize the idea of celebrity since we give so much praise and space to celebrities. In some scenes when we were marching it felt like we were superheroes."
By the end of 2015, Tessa was starring in Creed alongside Michael B. Jordan and director Ryan Coogler, who previously worked together on Fruitvale Station. Tessa's character, Bianca, was praised by moviegoers because she wasn't just the man's accessory — still a rarity in films in 2016. "Bianca is something that I actively got to develop with Ryan. I wanted to give people a palpable sense of a real living person that has a life before she meets him, and will have a life after. I love that the audience got to wonder about Bianca's world, and that was much stronger than having her ringside holding a water bottle."
When I mention the scene where Michael B. Jordan's character, Adonis, taking down her braids, which every black girl immediately died over, she notes, "That was not a mistake. If you look really closely there's cocoa butter and a scarf to wrap her hair. It was a real opportunity to show young black people with nuance, and not have it be about race." What viewers and critics loved even more about her character was seeing a reversal of traditional roles — where usually the woman is trying to find herself and the man has it all figured out. Bianca knew who she was, while Adonis wasn't quite sure of himself. "I love that you get to see a black man be sensitive and vulnerable — and seeing a black woman demand those things of him. As millennial love is not women waiting at home but being just — as if not more — ambitious, and showing how it works when two people are after something."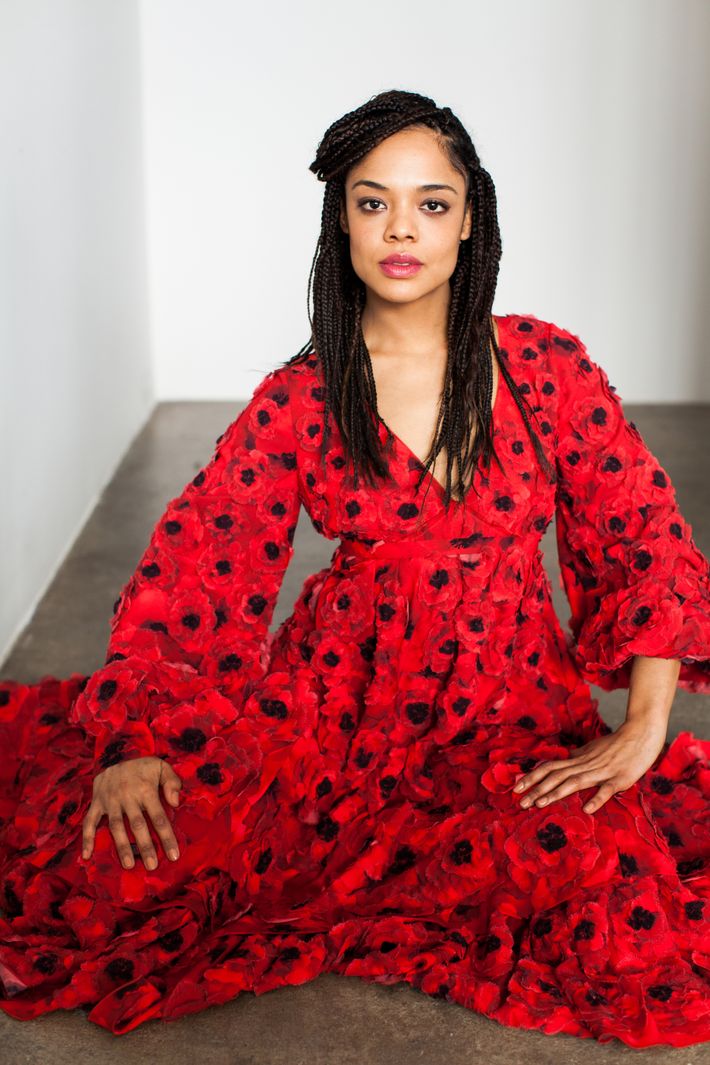 Michael Kors Collection Dress, $11,500 at Michael Kors Collection Store at 790 Madison Ave (212-452-4685) and NARS Satin Lip Pencil in Luxembourg, $26.
In 2016, Tessa will star in HBO's upcoming show Westworld, the indie feature War on Everyone alongside Alexander Skarsgard, an Alex Garland (Ex Machina) sci-fi film called Annihilation with Natalie Portman and Gina Rodriguez, and the off-Broadway show Smart People, which follows four Harvard intellectuals on the eve of Barack Obama's election. "I play a young woman who just graduated from Harvard and she's trying to navigate that it's hard to be a black girl in theater, and feels like she's being boxed in a certain space because of her race." Opening this week, the show takes on sex, politics, privilege, race, and culture.
And because at this point there's nothing Tessa can't do, when I asked her about her dream role, she instantly said she would die to play Eartha Kitt. "I'm just fascinated by Eartha's identity — and it's one of the reasons I've always been such a big David Bowie fan. The reminder that identity is a construct and we're in charge of it. Eartha is someone that invented an identity for herself." She mentions some of her favorite films like Woody Allen's Annie Hall and how films can occupy such an important place in culture in history, adding, "I want to play a character that people can be for Halloween one day."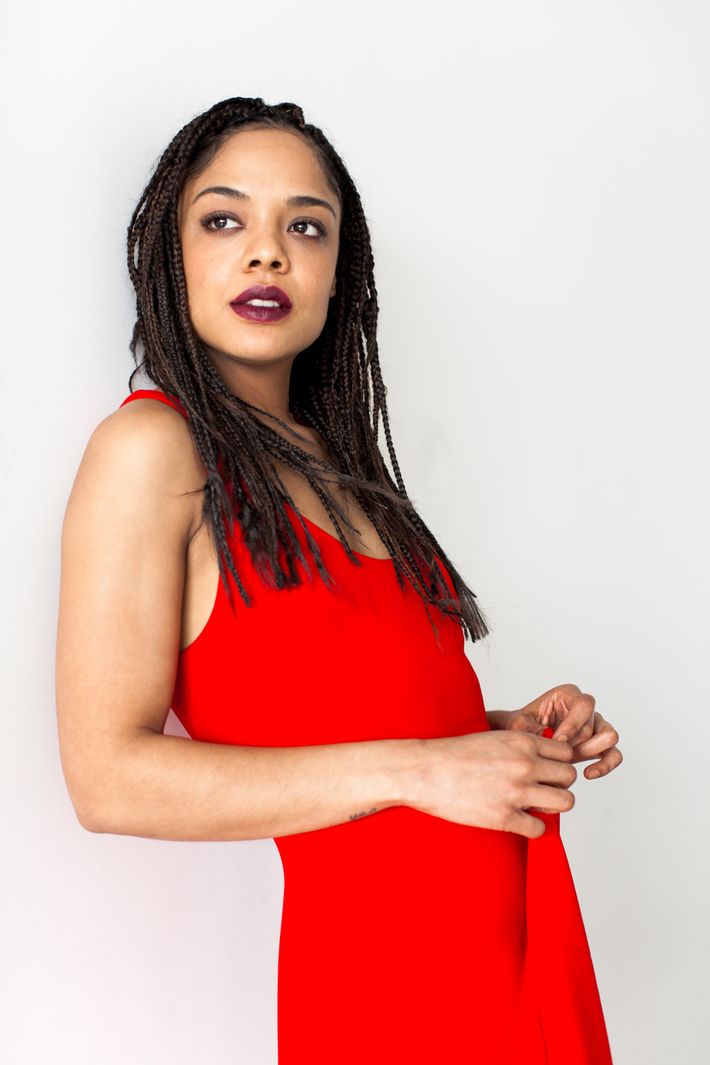 Ralph Lauren Dress, $3,590 at select Ralph Lauren stores and ralphlauren.com.
But she also stresses the importance of having an engaged life outside of the spotlight and having quality time with friends like Janelle Monáe at Wondaland, her Atlantic record label. "It's like outer space Motown, and feels like Motown would if it existed in 2016. We sit and drink tea and talk for hours. We talk about films, music she makes, music I make with my band Caught A Ghost. Those are my favorite times."
By the end of the day, we start to exchange ideas about the controversial hashtag #OscarsSoWhite and the lack of diversity in Hollywood, something Tessa knows about all too well. "The truth is, I feel like there just aren't enough portraits of black women. Actors are finally able to say, 'This is not cool,' and get up at award ceremonies like Viola Davis and say, 'It has nothing to do with lack of talent but more so with lack of opportunity.' Tessa knows how lucky she is to have stuck around.
Tessa says she's not one of those actors who grew up watching the Oscars, dreaming one day of holding her own — she didn't have a television growing up and still doesn't have one to this day. "To me it's like maybe the fact that you didn't get nominated is an award in itself. It means you're doing work that actually is perhaps more groundbreaking and for the people." And by groundbreaking in the case of Creed, she means pulling in over $160 million at the box office and being the No. 1 film internationally, proving that black films do sell abroad. "I feel like my trajectory has been almost circuitous — I'm now doing the thing I thought I'd be doing after having done television and film, but it's been a cool ride."
Photographer: Andre Wagner; styling by Lindsay Peoples; makeup by Nick Barose; hair by Cynthia Alvarez; photo editor: Sabine Rogers.