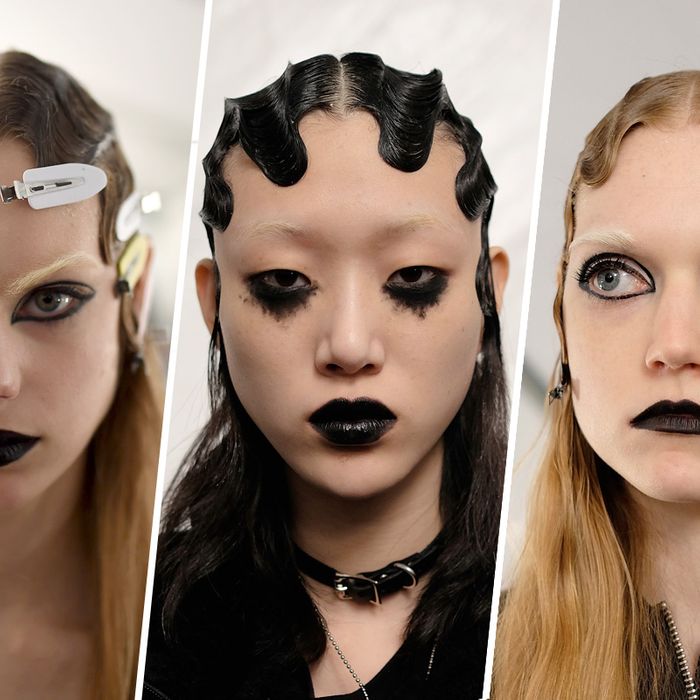 Tonight's Marc Jacobs show was a beauty dream for evil queens and practitioners of the dark arts. It was all black — period. "No blush," François Nars clarified of the look. "It's all black and white, in a way." In emoji, the look was seven black bombs.
Black can be basic, punk, goth, Victorian, sophisticated, evil, creepy, decadent, or moody, and the six different beauty looks for this season encompassed all those things. There were glossy black lips, nude ones, and matte ones. Although not everyone got a dark lip, everyone got a dark eye.
One model had a neater version of an Alice Cooper starburst, while another had her upper and lower lash lines ringed in Marilyn Manson–like ink-blotter smudges. A third look involved drawing a bigger eye over the model's natural eye in liner. Little foundation was used, and contouring and highlighting were virtually nonexistent. You can continue to relax about your eyebrows, as Mr. Nars bleached them until they disappeared.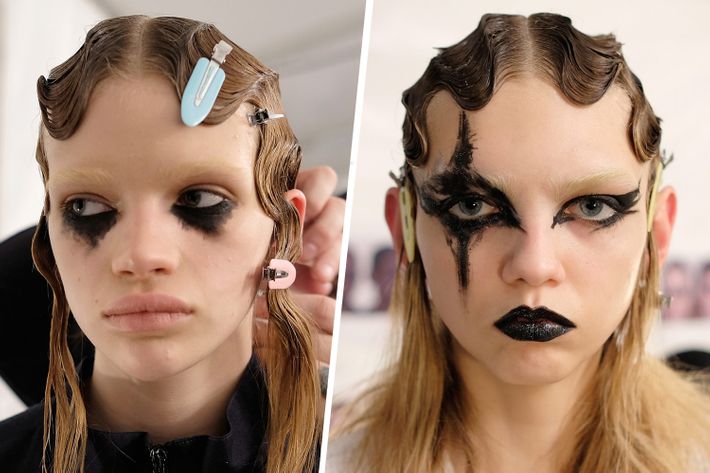 According to Nars, the look — with its mix of glossy, rich, matte, and satin textures — was meant to be decadent, especially the very stylized, wet finger-waves, created by Redken creative director Guido Palau. Should you want to channel Queen of Scowls Molly Bair at home, you'll need all the black eyeliners you can find. Tonight's lip was achieved using eyeliner (the same trick for the lip from this week's Fenty x Puma show): Nars Filibuste Velvet Shadow Stick, Black Moon Velvet Eyeliner (the velvet version out in the fall), Minorque Kohliner, and a touch of Triple X Lip Gloss. For the eyes, use a mix of the liners with eye shadows like Pandora Duo Eye Shadow and Sycorax Dual-Intensity Eye Shadow.
As for the hair, finger waves are a complicated endeavor, so much so that Palau had to seek out a hair crew that knew how to do them. They were the style of choice for women of means in the Downton Abbey days, mostly because they took a lady's maid to create. An easier version of this is to take a lot of gel (like Redken's Hardway Super Strong Sculpting Gel), apply it liberally all over the head, and use a comb to create a slight wavy pattern in your hair. You know those Zen rock gardens people have on their desks? Your hair is the sand, and your comb is the rake.
There's power and aggression in these looks. If you looked like this every day, imagine the things you could wordlessly communicate:
"I will not be paying $3.50 extra for guac."
"I wanted an chartreuse dragon, not a green one."
"What is a Yeezy?"
"I drink the blood of my enemies without disturbing my lipstick."
The "don't mess with me" lip just got upgraded to the "don't mess with me" face.