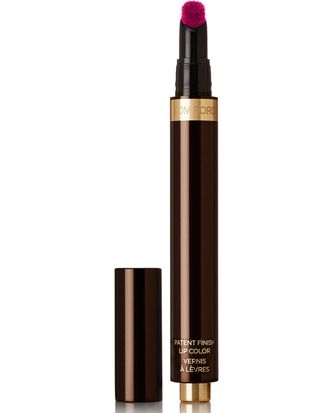 We all know that Tom Ford already has a masters degree in lipsticks, but here comes his honors thesis in continuing lip education. I wore his new Patent Finish Lip Color in Infamy to a beauty dinner the other night and no less than three beauty editors asked about it. Unlike lipstick, which telegraphs to the world that you are wearing something, a lip stain offers a softer take on lip color: organic and non-fussy, like you just happened to be born with perfect rosy lips.
Tom Ford's lip stain even lets you decide how far you want to take the façade of perfect lips. The more coats you put on, the glossier, richer, and more Studio 54 the lip color becomes. Be warned that it does take a number of clicks on your first try for the pen to finally dispense pigment (I think I counted at least 40, making it a fun way to annoy your roommates). It's not broken, and the wait is worth it. 
Tom Ford Patent Finish Lip Color, $52 at Neiman Marcus.