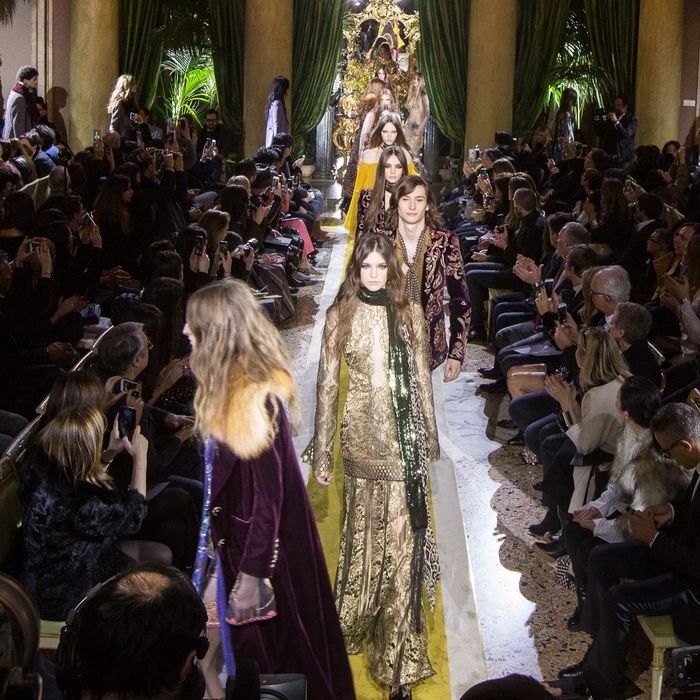 The Roberto Cavalli runway.
Photo: Victor Boyko/Getty Images
We're recapping our five favorite moments from each day of Milan Fashion Week. Below: the best, prettiest, and weirdest things we saw on Day One.
1. Brunello Cucinelli always welcomes travel-weary editors with gorgeous cashmere separates and homewares, luxurious accessories, and the most lavish spread of Italian food and drink. We're talking about chunks of Parmesan, cured meats, strong espresso, and multiple varieties of pasta. Has a viewing ever been so civilized?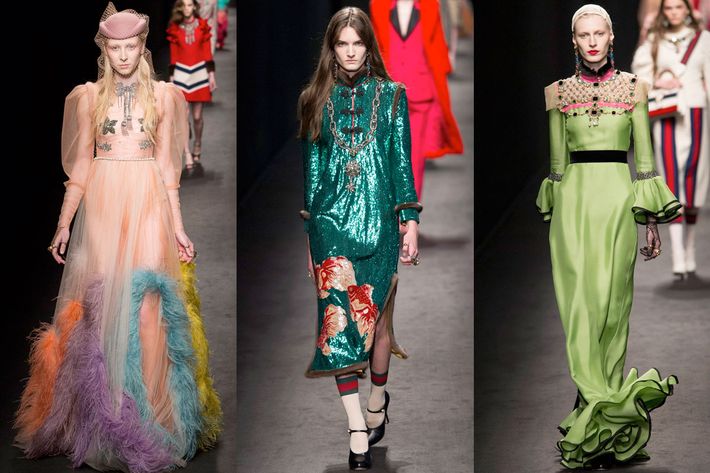 2. Gucci took us way out to an old train station that the house had walled in red lacquer and carpeted with snake motifs. The show space was draped in dark screens onto which were projected strobe lights, videos of avalanches and fire, and imagery of magenta and deep-cobalt flowers — a true sensory overload. Michele's latest collection was just as over-the-top: a couture-meets-street mash-up full of ruffly gowns, graffiti'd jackets and bags, pastel feathers, and shimmering sequins.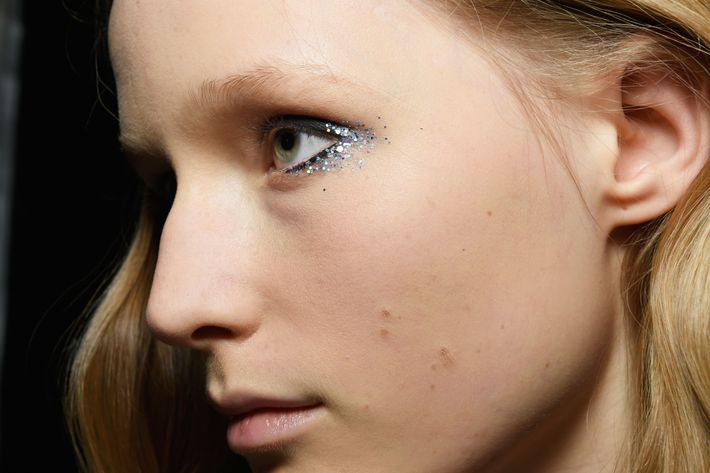 3. Designers didn't save all their Studio 54–worthy shimmer for the clothes. Iridescent glitter in silver, blue, and pink extended from the eyes at Fausto Puglisi like a cat-eye, only glitzier.
4. Milan fashion is known for overt sexual undertones and va-va-vooom silhouettes. However, Alessandro Dell'Acqua's fall lineup for No. 21 was a cheerful mix of grunge (the oversize one-sleeve Buffalo check knits) and feminine playfulness (leopard coats). And as always, Dell'Acqua used the same song to close his show: Pat Benatar's "Love Is a Battlefield." Gotta love the commitment.
5. Roberto Cavalli was the last and most glamorous show of the day. Held at the opulent Palazzo Spinola Salone d'Oro (a gorgeous gilded space far fancier than any NYFW locale), attendees walked past a candlelit pathway (complete with harpist) into a glorious space decked out with palms, candelabras, four massive crystal chandelier, and white-jacketed Champagne servers. The show began with the chanting soundtrack from the orgy scene in Eyes Wide Shut, and the glam, tiger-striped, velvety-sequined lineup marched down the runway accompanied by a mix of live opera and transient music. Sexy!