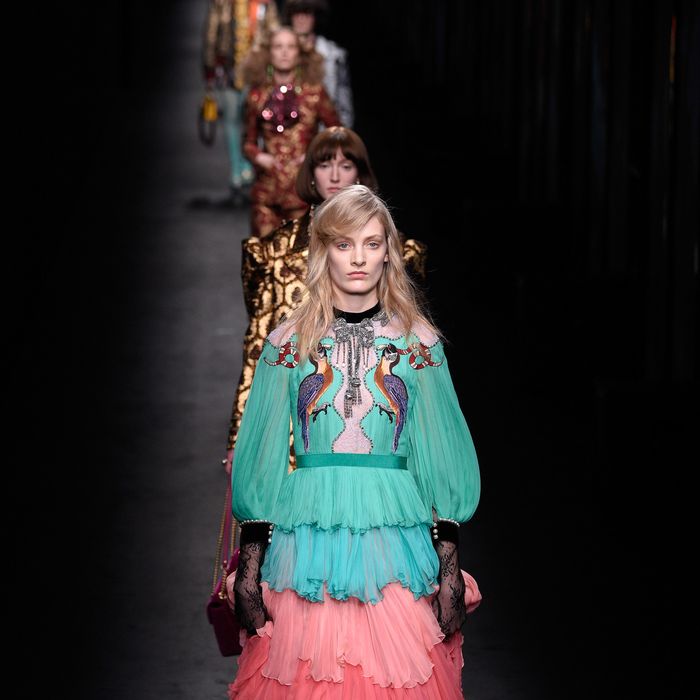 Photo: Pietro D'aprano/Getty Images
Gucci opened Milan Fashion Week today with a colorful array of mod '70s designs presented amid pulsing lights and cello notes spritzed in static. It was a show inspired by vibrantly ordered disorder. Guests received a welcome note with piano sheet music made for David Tudor, an avant-garde pianist and composer. Creative director Alessandro Michele explained that the score was "rhizomatic" — made up of unpredictable connections, like a tangle of roots.
The rhizomatic quality rang true in the collection's colors as well as fabrics: There were green-sequined dresses, feathered skirts, and ruffles cascading from gowns in pink and turquoise. Sequin snakes traced up long silky gowns and one sheer black frock.
Models wore their hair flat or slightly waved with minimal makeup for a naturalist look that focused solely on the clothes.
Their faces were obscured by large-framed mod glasses and veils. Earrings were statement-size — some models had long ones resembling feathers falling down each cheek.
The collection included red-sequined pantsuits, structured trench coats, brocade military jackets with sleeves fringed in fur, and a chunky pearl-embellished sweater.
This will henceforth be known as "the peacock dress."
There were luxe coats in yellow and ballerina-pink fur, and colorful leather handbags.
Other bags were painted in graffiti as part of a collaboration with GucciGhost's Trouble Andrew (Trevor Andrew).
Photographer Petra Collins made an appearance — her runway debut.
After the riot of color and texture, Michele closed the show in jeans and a faded white T-shirt.