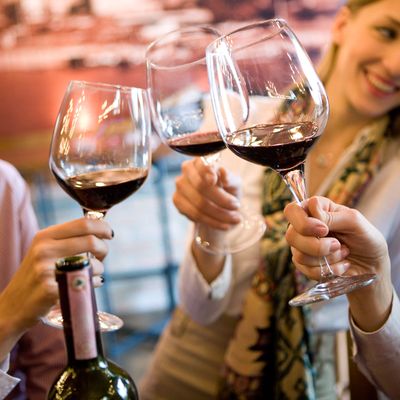 Photo: webphotographeer/Getty Images
Many sensible young people know that they're projected to live longer than their parents. Many of them would also like to resemble a toned, porcelain doll well into their 80s while still enjoying life. This combination has a subtle influence on all kinds of daily choices, like: Which alcoholic beverage is the healthiest?
The internet professes to help answer that question with a wealth of listicles touting the benefits of wine and its magical polyphenol compound, resveratrol. It takes deeper digging to find stories that explain the problems with the existing research and the fact that other lifestyle habits of moderate wine drinkers might trump any advantages from the alcohol itself. But screw it, wine is the fountain of youth and Olivia Pope is a goddess among women!
Now, a report from the nonprofit Wine Market Council has found that young folks are really into vino: In 2015, millennials drank more wine than any other generation: 159.6 million cases last year, or 42 percent of all the wine consumed in the United States. (The WMC defined millennials as people ages 21 to 38, which represents a slight expansion of the standard range of birth years between 1982 and 2004.)