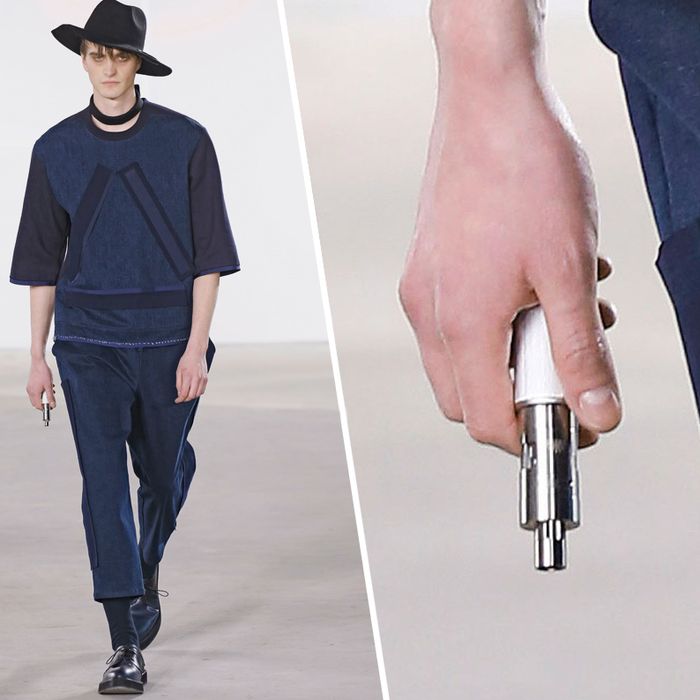 Let the bureaucrats debate whether vaping should be allowed on airplanes or in restaurants, and decide how to warn children against the dangers of, say, brulé-flavored nicotine juice. At Men's Fashion Week, the question is whether vaping should be considered cool, and entered into the modern lexicon of Important Fashion Accessories for men, which currently includes wide-brimmed hats, fancy leather portfolios, and suede Chelsea boots.
General Idea appears to come down firmly on the pro-vape side. At its runway show yesterday, several models carried polished chrome vaporizers made by the brand Innokin. This is the continuation of a trend we saw at the inaugural men's shows in July, where Richard Chai gave all front-row attendees a Pax Vaporizer, and at NYFW in September, where Opening Ceremony teamed up with Pax to sell vapes at the Ace Hotel.
Whether it's THC, nicotine, or just pure flavor, the vape movement is extremely real. The @VapeTricks Instagram account has over 28,000 followers, and plenty of heavily stylized, editorial-worthy vape shots. Some are almost entertaining enough to watch. But should fashion embrace the trend?
On the one hand, marijuana is hot right now, and being high is pretty cool. If I were a model and my only job was to walk and have a certain look on my face, I think being stoned while doing it would be the way to go. Apparently that sort of behavior is frowned upon — a model at Deveaux's show on Monday was almost 86'd from the venue for vaping backstage.
On the other, even Leo D. was roasted for vaping at an award show recently. He was also just spotted hanging out with Rihanna and will likely win an Oscar for fighting a bear. Don't let him be your patron influencer. The pro-vape argument ends there.
Esteemed street-style veteran Nick Wooster made a name for himself as smoker. He did it for decades and his habit is well-documented by street-style photographers from around the world. He may have even inspired a younger generation of wannabe menswear icons to start. Sorry, Nick. But five months ago he quit. So does he vape? "Hell no," he told me.
And when I texted legendary street-style photographer Tommy Ton about whether he thought vaping outside the shows was a cool thing to do, he replied with one word: "Meh."