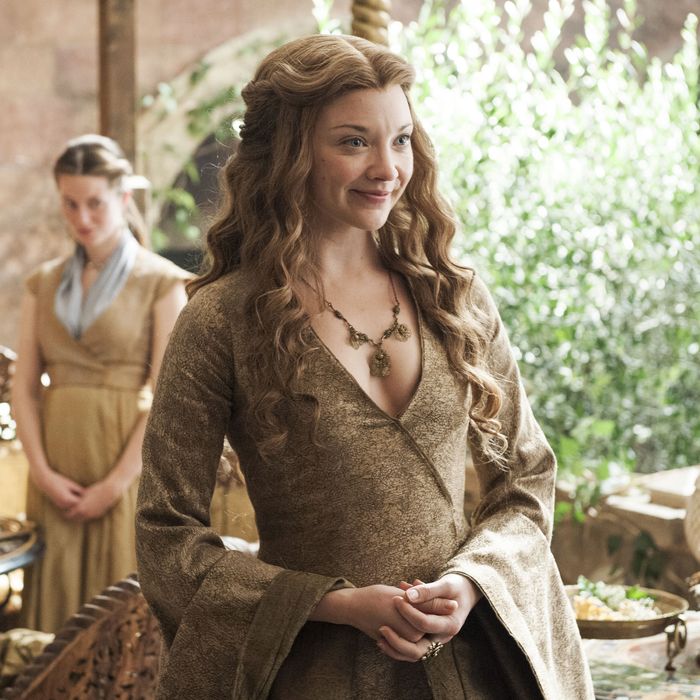 Ready-to-wear Game of Thrones.
Photo: HBO
Take some style advice from Game of Thrones' Khaleesi, and you too can be the queen of going-out tops. But what other onscreen clothes can you wear in real life outside the club? Last night at the Costume Designers Guild Awards (held at the Beverly Hilton in Beverly Hills), the Cut asked costume designers and a few actors to share the clothes they've designed or worn that people would actually wear off set. As it turns out, many of their garments are ideal for making your own Hollywood-ready wardrobe, from The Mindy Project's colorful coats, which became an actual clothing line, to business suits on House of Cards to one slinky dress worn by Kate Bosworth (the designer later found it replicated at Bloomingdale's). Read on for Game of Thrones wrap dresses of which Kate Middleton would surely approve, Pitch Perfect's plaids, and lavender hues on Jane the Virgin.
Michele Clapton, costume designer, winner for Outstanding Fantasy Television Series, Game of Thrones
"Some of the stuff at King's Landing — the little wraparound dresses, they're so easy to wear. I think they'd really take off as a fashion line. I keep thinking I must do some, I must make myself one, and of course I haven't. But I think they're really practical. I'd love to see a Game of Thrones line. Maybe one day."
Salvador Pérez, costume designer, The Mindy Project
"I designed coats for Mindy for three seasons and people kept asking for them, so I finally designed a line of coats for Gilt. I designed them because I couldn't find them. You go to the store and there's a black coat, a gray coat, a camel coat. But there was never the pink or the red-blue play, there were never those clothes. So I designed a line of them and they sold out. I knew there was a reason they weren't out there. People did want them but nobody made them. It was nice to prove myself right."
Hana Mae Lee, actor, Pitch Perfect 1 & 2
"I wear costumes where I'm like, people should not be wearing this outfit. I'm like, Oh boy. They'll put me in crazy patterns with flowers with plaid and I mean, that for Lilly's [Pitch Perfect] character, I think it works so good for her. But I think when people try to do it on a normal basis, it's a little much. Like, rubber, I wouldn't suggest wearing outside for more than two hours, 'cause you just start sweating. It looks sexy, but it's awfully hot in there."
Johanna Argan, costume designer, nominee for Outstanding Contemporary Television Series, House of Cards
"I'm a contemporary designer so anything I design, anyone can wear on the street, especially for House of Cards, the business world. This season you'll meet Leann Harvey [played by Neve Campbell] and I custom-made some suits for her. She was like my little muse this season. She's somebody who's at the top of her game at business and she looks the part: sharp, smart, and sleek."
Jaime Camil, actor, Jane the Virgin
"Today we did a fitting where my character ends up with Marie Antoinette, you know the way they dressed back in those days — so glamorous, so beautiful, so flamboyant. I love that! People should dress like that all the time. It's a surprise, but it involves a lot of lavender."
Cate Adair, costume designer, Bosch, Desperate Housewives
"I did a movie some years ago called Win a Date With Tad Hamilton with Kate Bosworth, and I did a little dress — the dress she got caught in the rain in. It was a vintage fabric I found at I S & W [International Silks and Woolens], and I designed it and had it made. Maybe a month after the movie came out I was in Bloomingdale's with one of my crew. He had helped me on the movie, and he suddenly went, 'Cate, your dress is here!' We went over, and we looked at it really carefully and we realized it wasn't my dress, but it was almost exactly my dress."
Jenny Eagan, costume designer, nominee for Excellence in Contemporary Film, Beasts of No Nation
"I was an assistant for a long time to a wonderful designer, Mary Zophres. We did True Grit and remade the button boots that buttoned down the side. I said, 'You know what? These are so fabulous, everybody's gonna want a pair, we should make these.' Heels and no heels and flats, and you know that's just a big tall order to mass produce, and they ended up doing it. For Beasts of No Nation people are like, 'Where do you get those hats? I want one of those hats.' I made them all. Get some yarn and some squares and sew them on your old hat, you're gonna have one. It's exciting when people really enjoy your work and want to own something, to have a piece of it. That makes me feel like I've done my job."
These interviews have been edited and condensed.