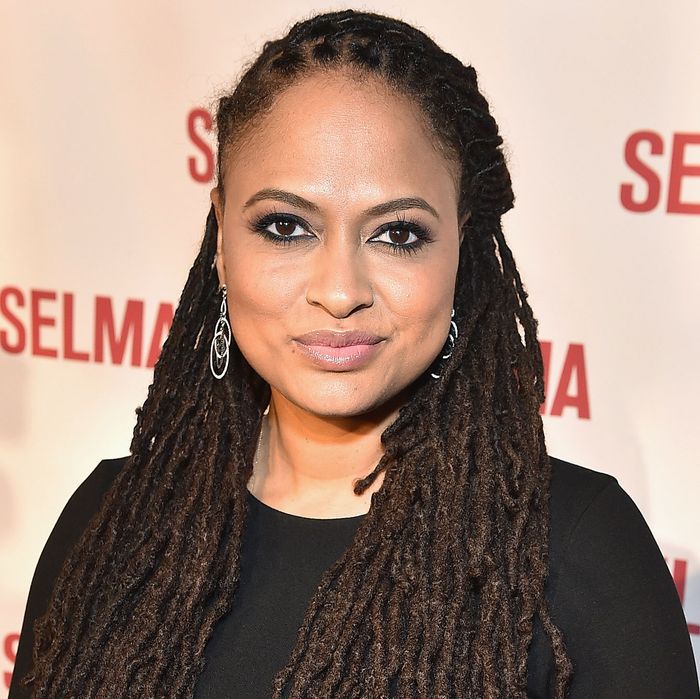 Did you just think of Selma?
Photo: Paras Griffin/Getty Images
What was the last film you saw that was directed by a woman, and what was her name? Did you just think of Ava DuVernay? When the Cut asked this question at various events this awards season, so did most Hollywood insiders. But here's the thing: Selma is from last awards season.
It's not surprising that few of the actors, directors, and other industry denizens we approached could name women other than DuVernay: just 9 percent of 2015's top 250 films were directed by women. At the Oscars this Sunday night, no women are nominated in the Best Director category, but that's not shocking either: Over the past ten years, less than one in five women have received Oscars nominations in non-acting categories.
A few insiders did manage to come up with other names. Several mentioned Marielle Heller's The Diary of a Teenage Girl. Michael Winship, president of the Writers Guild of America East, mentioned the French film Mustang, directed by Deniz Gamze Ergüven, while Julie Menin, commissioner of the New York Office of Media and Entertainment, shouted out Suffragette, directed by Sarah Gavron. And Dee Rees, writer and director of the acclaimed HBO movie Bessie, brought up Beyond the Lights, directed by Gina Prince-Bythewood. (For other female directors who deserve more attention, check out Vulture's comprehensive "100 Women Directors Hollywood Should Be Hiring" list.)
Read on for the most striking answers to this question, and then try to answer for yourself: What was the last film you saw that was directed by a woman? Can you name five female directors? How about three?
Idris Elba, actor
"The last movie I saw directed by a woman was that one by Amma Asante, that period piece … Belle, that's it. Can I name more female directors? Uhhh … Ava, Ava DuVernay? Seriously, I am not very good at taking quizzes!"
Lenny Abrahamson, director, Room
"Quite recently I watched a brilliant film called Beau Travail, a French film by Claire Denis, an absolutely genius filmmaker. I watched Selma by Ava DuVernay not that long ago. I like Kelly Reichardt* a lot. I like Claire Denis, a French director. And now my mind is going to go blank. I think Kathryn Bigelow is great. Um, that's four. Okay. I have to think of a fifth director from the history of film as well. Okay, four is all I can do, which is a bad sign."
Tom McCarthy, writer and film director, Spotlight
"Just recently Diary of a Teenage Girl, which I thought was really wonderful. Really good, right? [Can you name five female directors?] I don't want to play that game. There's a gender gap everywhere. The race, the gender gap it's everywhere, so to put it on the Academy or Hollywood is ridiculous. We have to examine every institution. We have to approach it open-hearted and open-minded and say, what's our part in this?"
Neil Brown Jr., actor, Straight Outta Compton
"That was directed by a female? Uhhhhhhhh, Selma? Ava DuVernay? Yeah. The movie had a lot of heart and Ava obviously put her heart in it. But that's another thing, too — we need more female directors. We got some badass women out there and people aren't seeing it. I mean, that's why I said the diversity talk is so important — men, women, black, white, Japanese, Spanish, you know, all-inclusive right? I think it elevates our art the more inclusive we are."
Paris Barclay, president of the Directors Guild of America, TV director (Sons of Anarchy, Glee)
"My favorite is Ava DuVernay; Betty Thomas and I just had breakfast this morning. Lesli Linka Glatter, Jill Soloway is absolutely phenomenal and great, Dee Rees. All of them deserve to do more, all of them deserve to have their voices amplified by greater work. And there's like 15, 20, 30 others that are just available to do business right now. I think there are people who aren't willing to do the work to find new talent — new to them. You have to have people to do the work, go out and watch films and go to Sundance and come back and say, You have to see this. They're not going to come knocking on your door. We'll try to bring them up and raise their profiles by acknowledging them with awards, but you have to do the work. It's your responsibility. You are the producer. You spend the money. You make the movies. Go get 'em."
These interviews have been edited and condensed.
By Kelly Marino, Jenny Peters, Carita Rizzo, and Jennifer Vineyard. Reported from the Directors Guild Awards, Writers Guild Awards, Costume Designers  Guild Awards, The Hollywood Reporter's Nominee Night, the Oscar Wilde Awards, and the Bad Robot pre-Oscars party.
*This post previously misidentified Kelly Reichardt as Kelly Ricard.