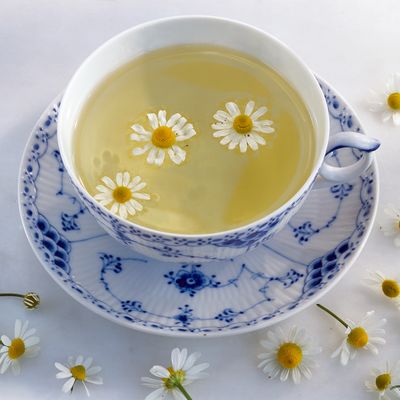 Makes you sleepy just looking at it.
Photo: Michael Rosenfeld/Getty Images
Stress, caffeine, car alarms, the neon sign outside your window — there are all sorts of elements conspiring to ruin your sleep. If you're not quite ready for prescription solutions, natural sleep aids can seem like a promising middle ground. But which ones actually work? We sifted through medical studies and spoke with experts to round up seven ways to get some rest when your blackout curtains just aren't cutting it.
Before we start, some caveats: Natural sleep supplements aren't subject to the same restrictions as, say, Ambien, so "there's a bit of a buyer-beware situation with these," says Dr. Lawrence Epstein, assistant sleep clinic medical director, division of sleep and circadian disorders, at Brigham and Women's Faulkner Hospital. "Supplements aren't regulated the way that medications are regulated," he cautions. "Companies are not required to prove that they work. They're not even required to prove that they're safe, or that they deliver what they say they deliver."
There's also lack of data regarding supplements' efficacy, which doesn't necessarily mean they don't work — many simply haven't been studied enough. "With pharmaceuticals, there is a company that is going to make a lot of money if the pharmaceutical is proven to work," says Dr. Catherine Darley of the the Institute of Naturopathic Sleep Medicine in Seattle. That's not the case with many natural cures, which is part of the reason why there is a dearth of scientific research. "There are financial forces at play in funding the research."
That said, if you've been on the Ambien train a few times and are searching for something that won't make you blackout and sleep eat, natural sleep supplements are worth a try. They don't come with a laundry list of freaky side effects, aren't habit forming, and don't require a trip to the doctor's to obtain.
When considering supplements, it would behoove you to consult with a naturopathic doctor. "The dose you take, how you take it (with or without food), and the timing makes a huge difference," says Darley. But first, here's our list of seven all-natural options to choose from.
Melatonin: Melatonin is a hormone naturally produced by the body to help regulate our circadian rhythm, the internal clock that includes the sleep-wake cycle. There are both over-the-counter and prescription medications that include melatonin. Though it does have a "mild" soporific effect, says Epstein, "its greater role is with the timing of sleep and helping people regulate their circadian rhythms."
"It is very useful for circadian problems," echos Darley, "particularly delayed sleep phase. People need to take it six hours before bed to have that phase-shifting effect, to shift your body clock earlier. Many people don't know that." If you're a night owl, have jet lag, or are a shift worker, melatonin could help you fall asleep at a normal time of night.
L-tryptophan: The amino acid L-tryptophan was pulled off shelves in the '90s due to a contamination issue (speaking to that earlier point about supplements being unregulated), but has been back on the market for ten years and is now considered safe by the FDA. LT is not naturally produced by the body; you have to get it from food (it's in sleep-inducing foods like turkey and milk) or a supplement. Once absorbed, it's eventually converted to serotonin, the precursor to melatonin. Unlike other natural sleep aids, there have been many studies concerning LT's effectiveness. It seems to work like a sedative, helping you feel sleepy and fall asleep faster.
"5HTP can be helpful, and sometimes can be more easily taken than tryptophan. The thing with tryptophan is you are supposed to take it away from food, so it's not competing with other amino acids. Take it a few hours after dinner," says Darley. "It can give some people an allergic response, like a rash," says Sanjeev Kothare, M.D., associate professor, department of neurology, NYU Langone's Comprehensive Epilepsy Center. "So you have to be careful with tryptophan."
Valerian root: This herb is commonly included in sleep supplements, and research backs up its effects: It can help you fall asleep faster and improve the quality of your sleep. "Valerian root has been around for a very long time," says Epstein. "It has some potential to affect a couple of the sleep systems, like GABA and serotonin, and there have been a number of small trials performed."
"Valerian is pretty well studied, though some of the results are mixed," says Darley. "I don't often use it in my practice, but I am working with people who have chronic, long-term insomnia and are at the point where they need something stronger." It could be more effective, "for a person having insomnia thanks to temporary upset or a life event, for those whose sleep isn't as disturbed long-term."
"There's anecdotal data that Valerian does work in sleep induction. How it works is unclear," says Kothare. "But it works." Valerian root is endorsed by Dr. Andrew Weil, who writes that the "sedative herb," which can be found relatively easily, should be taken a half-hour before bedtime.
Magnesium: A few small studies have shown a link between magnesium deficiency and poor sleep. And according to the University of Maryland Medical Center, most people in the U.S. aren't getting enough magnesium in their diets. The "miracle" mineral is endorsed by Dr. Frank Lipman, Gwyneth Paltrow's guru, who recommends "taking 1,000 mg" before bed, as well as Dr. Weil.
"Magnesium is known to have relaxing properties," says Darley, "and it's one of the nutrients that many Americans are deficient in because we don't have a very magnesium-rich diet and because magnesium is used up in the metabolism of sugar. We have high-sugar diets, so we burn through a lot of magnesium, and then we're not replenishing it with magnesium-rich foods." Try one of the magnesium drinks on the market that "seem more absorbable and calming."
Hops: This plant, a crucial component of beer, has been studied for its sedative effects and has historically been used for sleep issues. Hops "have a soporific effect," says Kothare. Though there's not a ton of evidence that hops alone will cure insomnia (it's often taken with valerian root), there have been some positive results regarding its usefulness. As Men's Health explains, "Most hops-related sleep studies with humans pair the extract with valerian and prove that, when taken together — usually 120 mg of hops extract with 500 mg of valerian extract — the combination may help to improve sleep and decrease the time it takes to fall asleep."
An important note: This doesn't mean that beer is a sleep aid. Alcohol has been proven to disturb the quality of sleep, and over time, alcohol abuse can screw up your sleep permanently.
Chamomile: Consumed as a tea or tincture, chamomile is a very, very gentle sleep inducer. In other words, this one isn't going to help you if you're a chronic insomniac. Still, if you're doing all the things to try to sleep better, it certainly can't hurt. "It's mild but helpful," says Darley. "I have had many patients say that they get some help with chamomile tea. It doesn't solve their problem, but it decreases the amount of time it takes them to fall asleep or helps them feel more relaxed."
"It works well with lavender, " says Kothare, who recommends the herbal combination in a soothing bath.
Tart cherries: Tart cherries are a close relative to sweet cherries. They offer more nutritional value, and their juice is a proven source of both melatonin and tryptophan. In a much-talked-about study published last year, tart cherries were shown to help people sleep longer — nearly an hour and a half more per night. If you don't have problems falling asleep but tend to wake up way too early, tart cherry juice could be just the trick. It "could be something worth trying for mild insomnia," says Darley.