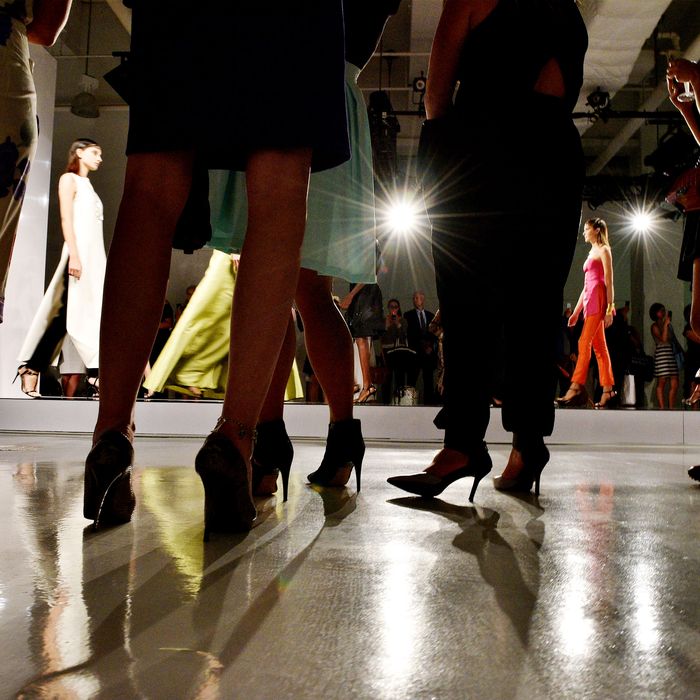 Josie Natori at spring 2016 New York Fashion Week.
Photo: Bryan Bedder/Getty Images
Protagonist, the minimalist line designed by Georgia Lazzaro,* made its Fashion Week debut a year ago and is sold at Vanessa Traina's immersive store the Apartment. Lazzaro is hosting a presentation there from 11 a.m. to 1 p.m. — make sure to linger and pretend you really live in the store's Soho loft setting, complete with priceless artwork on the walls and a huge soaking tub.
Along with Jane Mayle and Daryl Kerrigan, Tracy Feith is the latest '90s designer to reemerge over the past few seasons. He is designing the in-house line for Warm, the beachy boutique owned by fashion publicist Winnie Beattie. Anyone pining for the bohemian Feith aesthetic should put this one on their calendar.

R13, which shows tonight at six, told us they were inspired by "F*CKERS," so that seems worth a pop-in. And Belstaff is hosting a pop-up in Soho, complete with a film screening by brand ambassador Liv Tyler.

At 8 p.m. VFiles will present a group show by its winning designers, who were selected by a panel including Harold Koda, outgoing curator in charge at the Met Costume Institute. Four new labels — Ottolinger, Sophie Hardeman, Kim Shui, and Anton Belinskiy — all made the cut, and we're told Jaden Smith will be front row.

By nightfall, e-commerce site MyTheresa and Aquazzura (fashion newbies: not the same thing as Altuzarra!) will be hosting an 80-person Cuban dinner at Paul's Cocktail Lounge that's sure to go late into the night.
*An earlier version of this article misstated that Kate Wendelborn is the creative director of Protagonist. Wendelborn is no longer with the company, and its new creative director is Georgia Lazzaro. Also, Morgan Wendelborn is no longer with the Line.