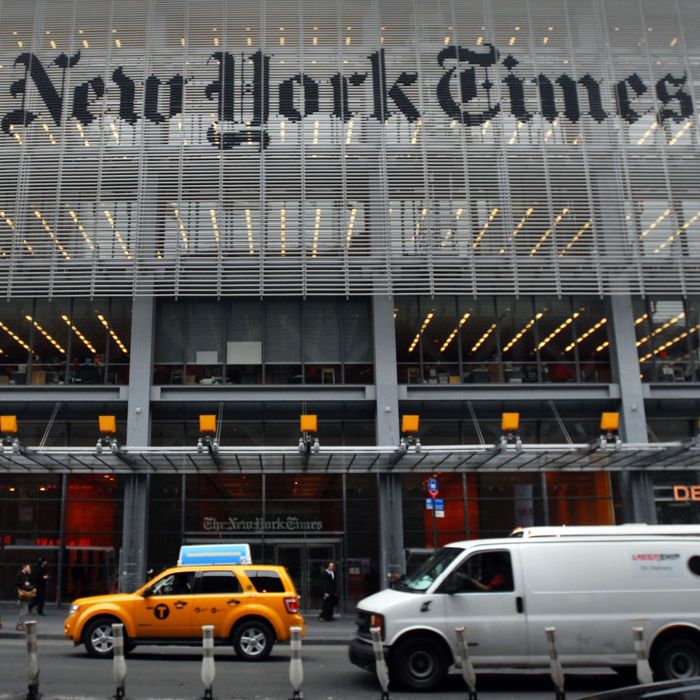 The New York Times building
Photo: Neville Elder/Corbis
As the New York Times' director of advertising products, Arielle Davies says her managers frequently praised her work and were satisfied with the digital revenue she brought in. But, she alleges in a new suit filed against the Times, her successful tenure there came to an abrupt end when she was laid off during the maternity leave she was entitled to.
Just how much maternity leave Davies was allowed to take was a point of contention among her managers, who pressured her to take less than the four months she planned to take. (After applying for disability leave and leave under the Family and Medical Leave Act, she was actually entitled to six months.) When she told Terel Cooperhouse, the Times director of occupational health, that she was pregnant and would be taking off four of the entitled six months, he allegedly responded, "The good news is, you're right, you found a loophole in our policy. The bad news is, we've now changed the policy so you're still not entitled to it."
Davies's manager also sounds super-nice: According to the suit, he told her he'd forget her if she left for six months. He also commented on her weight gain while pregnant and said she looked like she "drank a few beers." Crazy how growing another human inside your own body can make you put on a few pounds.
Just before Davies was scheduled to go back to work, the complaint says, she was laid off in a company reorganization that didn't affect anyone else in her department. Now, she's seeking to be compensated for the wages and benefits she says she lost when the Times violated the New York State Human Rights Law and the Family and Medical Leave Act.
Being sued for gender discrimination isn't a first for the Times. Less than six months ago another former ad exec brought an age and discrimination suit against the company after they let go a large number of older and minority employees.