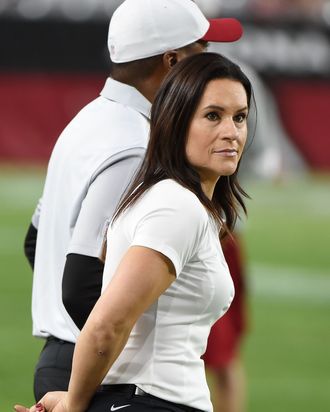 Former NFL coach Jen Welter.
Photo: Norm Hall/Getty Images
The NFL — an organization not particularly well-known for its fair treatment of women, now or ever — announced at its first-ever Women's Summit today that teams will now be required to interview women for executive positions. This is great (she said with heavy skepticism)!
NFL commissioner Roger Goodell, a known fan and advocate of supporting women, said today that the mandate will likely mirror the Rooney Rule, a policy created in 2003 that says teams must interview minorities when seeking to fill head coaching positions. According to BuzzFeed News, Goodell "pointed to the recent hiring of women as coaches — Dr. Jen Welter as a coaching intern for the Arizona Cardinals and Kathryn Smith as special teams coach for the Buffalo Bills — as evidence that 'progress is being made' in regard to women in football."
But it has often been pointed out that the Rooney Rule doesn't actually work, as it doesn't apply to coordinator or position coaches, and white coordinators and assistant coaches are much more likely to be promoted. It's worth questioning if this new rule to advance women in leadership positions (in addition to the debated Rooney Rule) will disrupt the bias that leads white men to promote other white men in the league.
At today's summit, Goodell said the league is looking to formalize the women's Rooney rule, though teams have reportedly already begun putting it into practice.