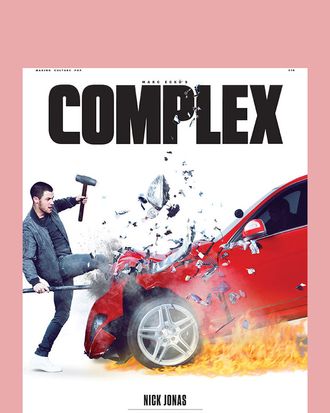 Nick Jonas, sliding right into stuff.
Photo: Gavin Bond/Complex
As an attractive young pop star with considerable talent and six to eight total abs, Nick Jonas has an active love life. But after listening to him discuss it in a Complex cover story, it's pretty clear that he is confused as to how one talks about having an active love life. Let's take a look at the evidence:
Example 1: When the Complex writer asks, "Yo, are you having sex with Kate Hudson?" Nick Jonas could have responded all cool, like, "What happens in Vegas …" or "That's between us, God, and the bedroom walls." Instead he giggles like a schoolgirl and says, "Out of my best effort to respect her and her privacy, I'm not going to say if we had sex or not. But we did have a beautiful connection. Even now I have so much admiration and respect. She's amazing" — probably while making that lewd finger-in-hand-hole gesture that indicates sex.

Example 2: Nick Jonas reveals that he is single and mingling, but not using Tinder. Instead, he reports that he prefers to woo by sliding into Instagram DMs. "Slide right in there sometimes," he says, probably while making that same lewd hand gesture.
I have a gift for you, Nick Jonas: just a little bit of chill.