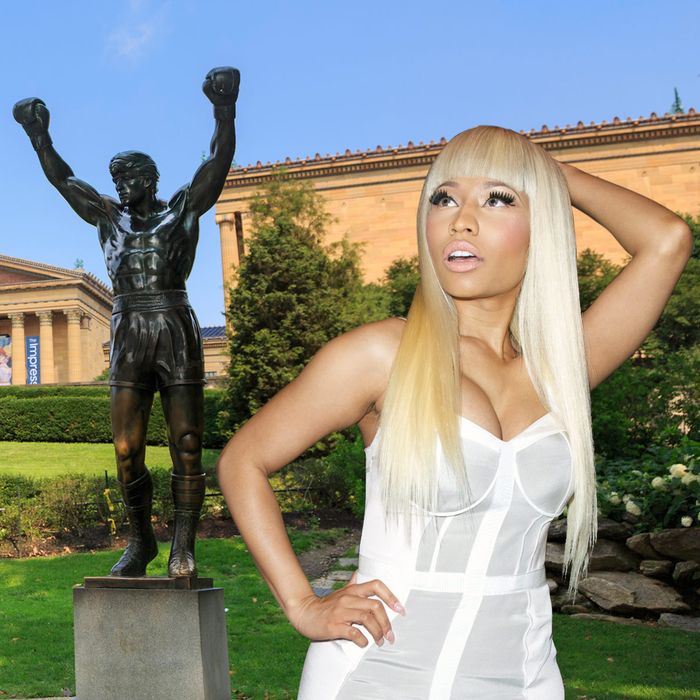 New York? Fuggedaboutit.
Photo-Illustration: Photos: Getty Images
Today, 28-year-old rapper Meek Mill — Slender Man stand-in and butt of Drake's petty insecurity — went back to court to find out if he is legally allowed to leave his hometown of Philadelphia or if he'll be facing more jail time. After violating probation (reportedly for visits and tour dates with his girlfriend Nicki Minaj), Meek was sentenced to two months of community service and forced residency in the City of Brotherly Love, two months during which Nicki Minaj has stayed loyally by his side. At his trial in December, Minaj testified on Meek's behalf, saying, "He's not perfect, but I can't believe how much he's changed." That sounds about right. He sure is lucky to have her, if you ask me or anyone at all.
Not a lot of good things happen in the city of Philadelphia, and much like Meek, the city seems to get a bad reputation from people who like to believe they're intellectually superior. (They aren't — that's just facts. Philly has always been home to the smartest people in the nation — another fact. The residents of Philly are also nice and handsome — just some more facts.) Since the pair's arrival in December, Nicki has been spotted everywhere from courtside at 76ers games to ice skating on the waterfront to dinner at Del Frisco's on Chestnut Street. According to Philly Chit Chat (referred to as "Philly's lone paparazzo" on BillyPenn.com), "Nicki has been staying at a Center City hotel — I'm not going to say which one, but you can tell if you look at the background of some of her selfies. At the hotel she's been very low-key. She walks through the lobby and nobody recognizes her, because she doesn't have her makeup or clothes done." What it means to have your "clothes done" is beyond me, but that's beside the point.
As Philadelphia's loudest out-of-town advocate, I worry that if Meek is granted the right to leave Philadelphia at trial, it will end the hip-hop duo's wonderful time spent gallivanting around the city everyone loves to hate. Since a budget impasse removed tax incentives for films shot in Philadelphia, the city is losing what little Hollywood glamour and glitz that it ever had, which was mostly limited to the polarizing It's Always Sunny, the Rocky franchise, and a magnificent Frank Sinatra mural painted in 1999 that has since been obscured by other buildings.
Nicki, you're a well-known and universally beloved rap superstar. You're already queen of the universe — your kingdom can bring much in the way of empowerment and growth and class to Philly. Just stay. It's fun to have you here. When you're in Philly, it really is always sunny. Not convinced? Let's rap.
Nicki, imagine: You can see all of Philadelphia's most impressive arts institutions, like the Philadelphia Museum of Art, the Barnes Foundation, the Rodin Museum, even the Mütter Museum if you like to be spooked. You can eat crab fries and soft pretzels and drink Turkey Hill iced tea and eat cheesesteaks if that's your thing, but it doesn't even have to be your thing. Philly, after all, has a booming restaurant scene. You could move out to the suburbs like you're Kobe Bryant; you could buy a warehouse in Fishtown; you could start a DIY band in West Philly and have shows at your house with a sliding-scale entry fee. You could eat pizza at Pizza Brain and you and Meek could take the fam to the Franklin Institute. Better still, you could easily land a starring role in an M. Night Shyamalan film. I love when you act. You're a great actress. I've always thought that!
If you stay in Philly with Meek, Nicki, you can "go to my show," which is what my friend suggested when I asked what she would suggest you do there. You can frequent Wawas and Eagles games. Hell, I bet you could get a spot on the Eagles coaching staff, since they will probably still be bad for a long while. I guarantee you'd be a walk-on as a first baseman for the Phillies. If you became a Philly resident, you and Bradley Cooper would have a lot to talk about. And Kevin Hart. And Kevin Bacon. And Will Smith. And Tina Fey. I bet you didn't know that Grace Kelly was from Philadelphia. Now you do. If she were alive, I bet she'd love to talk to you about Philly, too. Two beautiful woman — "Philly's own!" we'll say.
And if you're not ready to take it from me — a former resident who now lives out of town — at least take it from the ones who know it best. When I asked another friend what you should do during a potentially extended tenure in Philly, she said, "She should run for office and start calling her fans 'yous.'"
Mayor Nicki Minaj would get a lot done. If you ran with Meek as your deputy, I'd find a way to vote for yous.