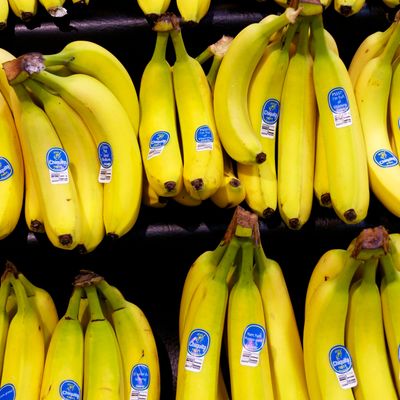 Photo: John Davidson/Corbis
My mission this week was to go out and buy a vibrator. I could just as easily (more easily, actually) have opened a browser tab and ordered one online, but I work from home, so I'm always looking for an excuse to leave the house — an "outing."
I am a humble, married woman with a toddler and my sexual needs are few: I can come in about three minutes flat when the mood is right but if it isn't, forget about it. The mood, so often, is not right. I've been thinking lately that maybe what I need is a fancy new vibrator. Maybe I'll buzz my way into the mood. Of course, when it comes down to actually spending money and making a decision, all desire drains from me and the absurdity of the situation comes into full relief. This is sort of how I feel about bath salts, like, "Hm, that might be nice," until I'm looking at a price tag like, "Salt, for a bath? Actual money? This is a scam."
A vibrator used to be a secret, dirty thing that was forbidden and exciting and took up whole afternoons of my life. Now I'm thinking, Hmmm, a guaranteed orgasm despite myself might be good, something requiring neither diligence nor focus. I could lie back, actively worry about my retirement account, lazily buzz my adult Squiggle Pen, then stare off into the distance while my partner has sex with me. Win-win. Plus, I've been meaning to pay a visit to our local sex-toy shop — a boutique, really, and all that implies. I invited Dustin, my husband, along one afternoon, while our son was (thank God) in day care.
We set off: Him, hopeful, but probably not wanting to get his hopes up, just happy to be invited; me, hoping he will pressure me into acting normal and just doing what I came there to do, which is buy myself an orgasm machine. Yet every time I walk into a sex-toy store, I feel like I am walking into the high-school cafeteria alone, trying not to make a stricken face, and this time was no exception.
"Hi, guys! Welcome — let me know if there's anything we can help you find!" I look at the employee's face. We do what feels like a few rounds of competitive smile-and-nodding, and the whole time I imagine her trying to guess what we came here for, what kind of sex we have, if one of us showers after. Of course that's ridiculous, though, and of course she is a beautiful woman wearing a nice dress, and of course there are clever, encouraging displays everywhere, as well as a small exhibit of vintage vibrators with wildly amusing ad copy. Everything seems to insist, "It's fine! We're cool! Sex is healthy and good for you, and this isn't weird at all! You're fine!"
These sorts of progressive, sex-positive places are a sort of utopia that I support theoretically, until I find myself inside one. The cheerfulness makes me turn into some combination of paranoid adolescent and leering pervert, skulking around and giggling to myself while trying to think of ways to show that I majored in gender studies. Mostly this involves stroking a vibrator as if it were an exotic pet on late-night television, and telling the cashier that the dangly labia earrings are "so good."
Going to a sex store in the middle of a weekday, right when it opens, is about as unsexy as it gets, which is both what I am looking for and what makes the experience so bizarre. No matter the time of day, the social contract dictates that you do not go to a sex-toy store horny — kind of like not going to the grocery store hungry, but for different reasons. For one, you'll be in mixed company. Despite the fact that this place opened at 11 a.m. and it's now 11:08, there are almost a dozen patrons shuffling around the merchandise. The depth and breadth of sexuality is contained here, at least that which requires accessorizing, which means it's brimming with uncomfortable laughter. A middle-aged woman announces to an employee that she had a margarita before she came, to prepare.
Over my shoulder, I hear the same employee ask her if she's interested in something for "stimulation that's external or internal?" "Internal," the margarita woman answers, a little too longingly. I raise my eyebrows, if only to myself, and pretend to consider cock rings.
Just then, a quiet elderly gentleman brushes shoulders with me, and I become so afraid he's going to detail some sort of predicament that I skitter away. I don't like to be reminded that certain people are in possession of a scrotum, which is hard to avoid in a place like this, despite the tongue-in-cheek events listings — Bon Appetit! The Fine Art of Cunnilingus — and the minimalist design.  
The logos for today's sex-toy stores are always, for some reason, neon blue. The stores themselves are styled to resemble futuristic hair salons or frozen-yogurt shops, with bright colors offsetting black-and-white stock photos of people grinning the grin of a person who, just out of frame, is getting rammed with an oversize dildo. ("What if I walked right over to this one and hugged it to me, telling you it was what I want?" I ask Dustin and he raises his eyebrows, says, "Well, I'd understand," then heads off in the other direction.) I guess a brown color scheme is off limits, pink or red is too labial, too menstrual. Green must be too much of a turn-off, maybe yellow, too. Purple?
High-end sex-toy shops are always either a party from what we thought the future would be like in 1990, or some sort of poor man's Eyes Wide Shut. They offer all the least-sexy parts of sex — medicalized, cheerleader-led, sanitized, "sleek." This might be a necessity, an attempt at decency, but the cumulative effect is profound discomfort. I don't want to wander the display tables and finger the merchandise while pretending I'm in Uniqlo when the merchandise I'm fingering goes up my own butt and everyone there knows it. "So what kind of circumference are you looking to shove up your butthole?" I imagine one of the beautiful, cheerful women saying to me through a smile, a look of concern on her face.  
I want nothing for my butthole — my butthole wants for nothing! — but being around all the accoutrements feels like a dare. So many items I only know as a punch line. Anal beads. What else is there to say but "Ha! Anal beads!" or "Ow! Anal beads!" — ignoring the fact that anal beads hanging from shelves at eye level seem utterly absurd. Nipple clamps induce a quiet "Whoa"; Dustin manages a "Huh." Dustin is better at sex-toy stores than I am. I keep trying to provoke him, and when we pass by the strap-on section, I try to wish away any wistfulness for a parallel life as a lesbian by asking him if he wants me to peg him. "Well, that would definitely be something I haven't done before," he says. Dammit. I shake some Ben Wa balls in my palm like they're dice at a craps table. He wanders away then asks me if I want to buy a vibrating egg. I do not.
I think the first thing I ever bought online that wasn't a textbook or an airline ticket was something called the Blue Dolphin from goodvibes.com, ordered to my dorm room. I see it on a table here. It's marked $20, which isn't bad considering it's waterproof. I remember because I would tuck it into my shower caddy and waltz down the hallway to the communal bathrooms with it.
I have been in my hometown's seedy sex shop — RICK'S TOY BOX — a few times but mostly as a joke, or on a dare. We were all virgins, declared before the church, but we laughed and blushed and talked for weeks about the leering, unkempt employees, the actual porn booths, how poorly lit and terrifying the whole thing was. It currently has two Yelp reviews and they both use the word "creepy." Sex, you got the feeling, was dirty, disgusting, shameful, forbidden, and really fucking exciting.
You go to a place like Rick's Toy Box and want to go home and bring further shame upon yourself. You go to the modern, bourgeois sex-toy store and feel like, "Oh, isn't sex one of the many aspects of a healthy, fulfilled life! How nice! Let's add it to our list of things to do so that we can be self-actualized, right after 'update my blog' and 'go to Zumba.'" I do not want sex to be a fun hobby, or worse, a chore. I want it to be a compulsion.
I did not buy anything at sex Uniqlo, did not have sex afterward either. "I'll just buy something online," I mumbled to myself, imagining the hours I'd waste comparing reviews and wondering when the hell I'd find the time alone to actually use the thing. No triumph of the self at all, just 20 minutes spent feeling hollow and circling fake dicks in 200 square feet of soft lighting for no reason other than how good it felt to leave. I flung open the doors like an escaped convict and spent the drive home trying to recover from cognitive dissonance, while postulating on the sex lives of the other customers. I still haven't ordered a vibrator.