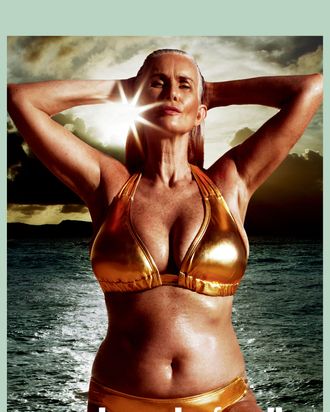 Nicola Griffin.
Photo: swimsuits for all
The Sports Illustrated Swimsuit Issue is slowly embracing body diversity, at least in its ad pages. Plus-size retailer Swimsuits for All is advertising for the second year after featuring Ashley Graham in the 2015 issue and, this time, the message goes beyond size.
The #SwimSexy campaign includes Graham (who's in the editorial pages, too), British-Ghanaian plus model Philomena Kwao, and a silver-haired newcomer named Nicola Griffin — all wearing the same gold bikini. At 56, Griffin is the oldest woman ever to appear in the pages of the magazine, though she's a little conflicted about the designation.
"I'm very honored, but 'old' to me means when you're 100," says Griffin, who's in a new-ish stage of her life. She started modeling about three years ago after her twin daughters left for college the same weekend, and it was her salt-and-pepper locks that got her noticed. "I was so worried about the empty nest. One day I went to the bank and this lady asked, 'Would you model your hair for our shampoo?' and I thought, Oh, why not?" Soon, having two kids away at college was the least of her concerns. "I didn't sit there being lonely or missing them because I was so busy," she tells the Cut. "Now they have trouble tracking me down."
That probably won't get any easier now that a photo of their mom in a gilded two-piece is all over the internet.
"I thought they would put me in a [one-piece] bathing suit," she says. "I've never even worn a bikini before. I just wouldn't — but I will now. Swimsuits for All, their fabrics are very good quality and when you get older you need good, quality fabric. I was worried at first but when I put it on I felt really sexy and I felt, I can do this. I can honestly say that I would wear a bikini again."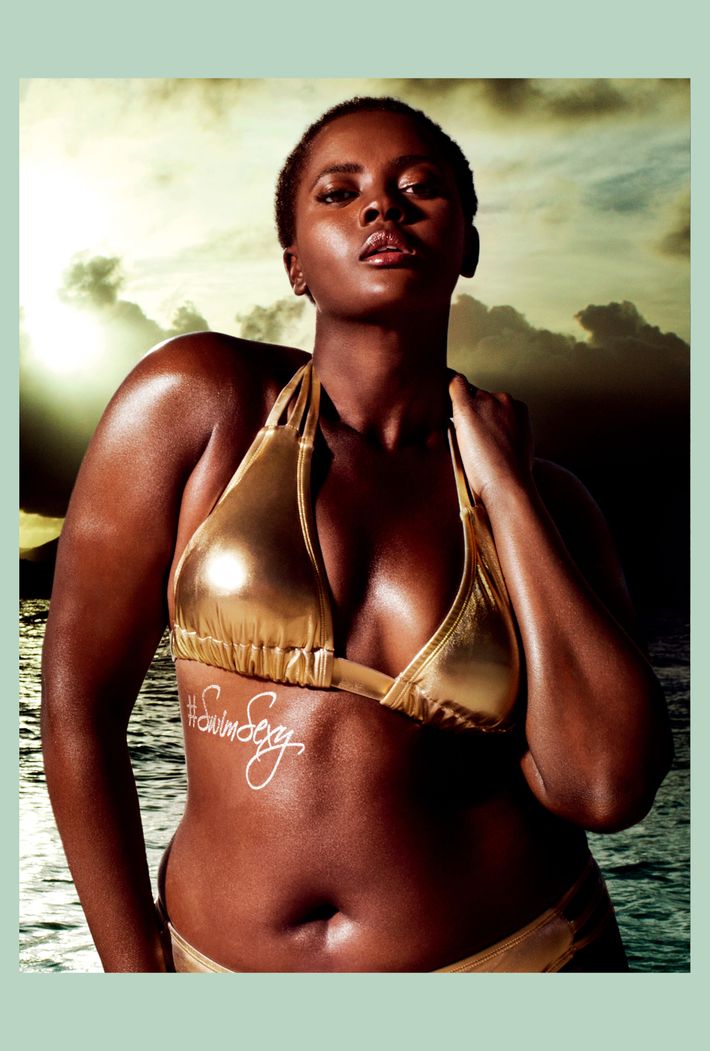 This real mantra also applies to her hair, which she stopped coloring at 42, when it would no longer "take" the dye. "The two years where it was growing out, it looked horrendous. Then a woman in a tea shop said to me, 'I like your hair,' and I thought, Do you mean me? You like my hair? How can you like it, it's gray? I realized it does look nice … It certainly suits me more than dyeing it."
She's understandably thrilled to be included in the Swimsuits for All campaign as a gray, mature model. "It's about time that you can open a magazine and see someone who's 56, 66, or 76 with gray hair looking good," she says. "It's wonderful and I'm so pleased they've done it because it shows younger women looking at magazines that they can look good as they are and the size they are."
Here's a modest proposal, SI: Since you put Graham in the magazine this year following a 2015 ad, how about more silver-haired women, plus-size women, women of color, and plus-size women of color in the 2017 editorial pages? We'll be waiting.